Three weeks ago, Putin turned the world upside down. That decision was made months ago, and we are beginning to see the outline of what's coming. And, the poor will suffer terribly.
Those countries who import food will be hurt the most. And, our first sign of trouble will be violence in the streets. Those who can't feed their kids, will tear their governments apart. But, it doesn't end with food.
The global financial system will break. The dollar's power will collapse – along with American hegemony. And, I'm not sure that Ukraine is going to win this war.
————————————
Keep Omega Shock alive with a donation.
Subscribe to The Shock Letter and receive my articles in your inbox:
(Click HERE to make sure that it gets to your inbox.)
Find these posts on Facebook and Twitter.
And, read my two books:
NOTE: Important links and commentary are posted daily in the Omega Shock Twitter page (usually before 7 am, EST. Mon-Sat.)
————————————
Violence and Famine
Food is life…
…and life is about to change.
The West does not understand what's coming. We don't know where food comes from. We don't know what it takes to grow it. We don't know what happens when there is less of it. We're clueless.
Whenever I ask this question, I never find anyone who gets it right:
What percentage of America's population is engaged in farming?
Here's the answer from the Farm Bureau:
Farm and ranch families comprise less than 2% of the U.S. population.
And, those farmers (and others) are sounding the alarm about what's going to happen to domestic and world food supply:
Food Supply Chains "Falling Apart" In Ukraine As "Imminent Famine" Risks Plague The World
https://www.zerohedge.com/commodities/food-supply-chains-falling-apart-ukraine-imminent-famine-risks-plague-world
Sweden: Harvests Could Halve Due to Lack of Russian Fertilizers and Manure
https://www.breitbart.com/europe/2022/03/17/sweden-harvests-could-halve-due-to-lack-of-russian-fertilizers-and-manure/
"I haven't had beef in 4 weeks": Jesse Kelly asked how inflation and gas prices are hurting people's families. The responses are brutal…
https://notthebee.com/article/i-havent-had-beef-in-4-weeks-jesse-kelly-asked-readers-to-describe-the-effects-inflation-and-gas-prices-are-having-on-their-family-and-the-responses-are-brutal
Here are a couple images that should tell you a lot about what's coming: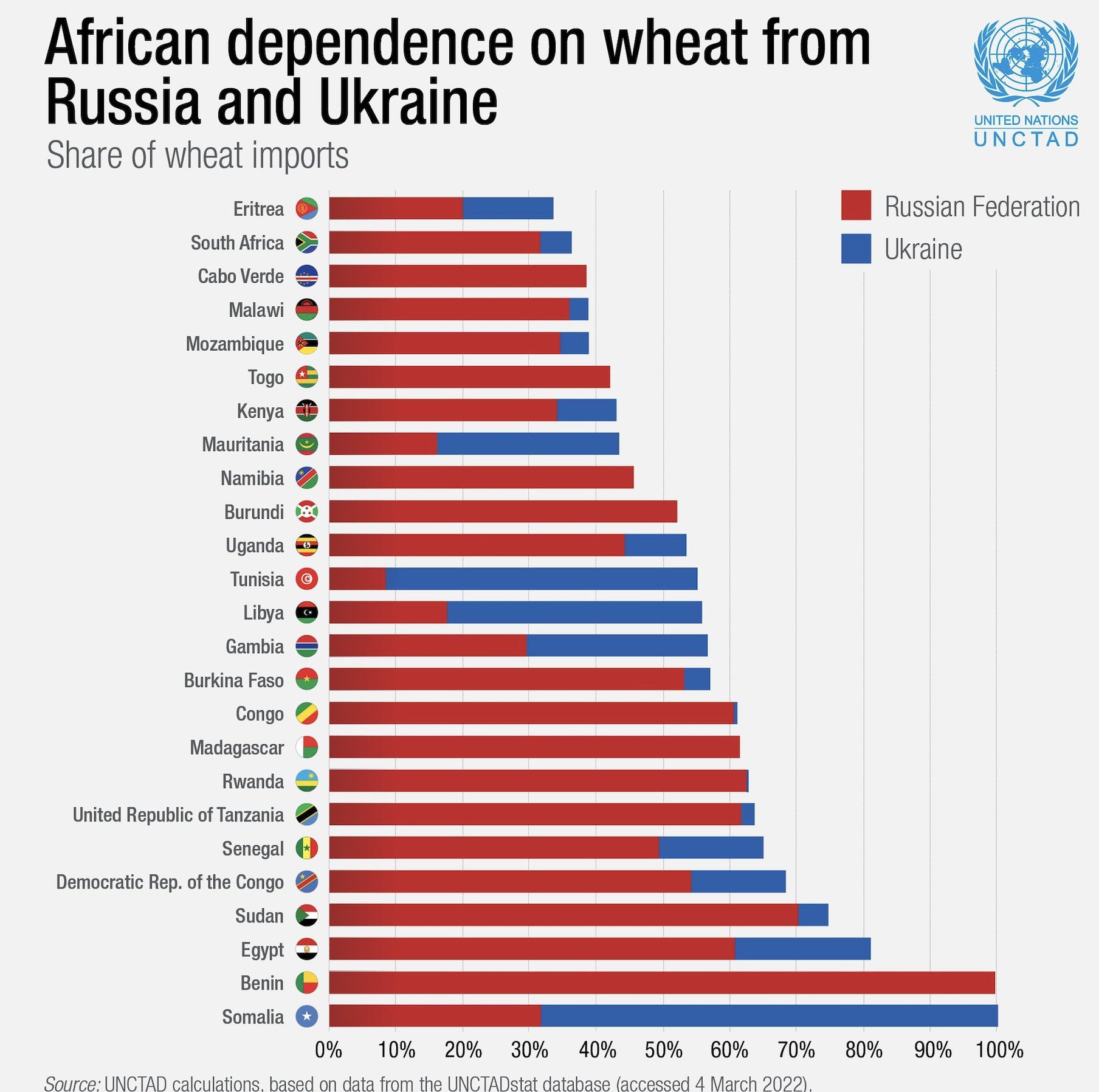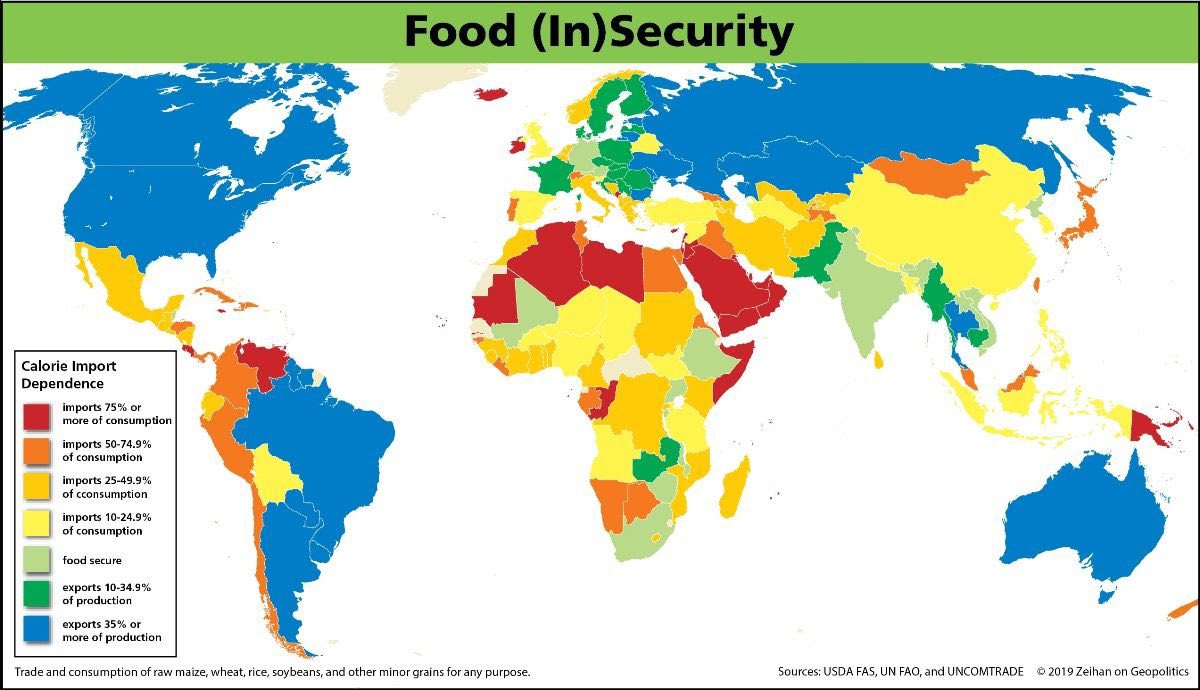 Then, a farmer had this to say on Twitter:
Our family farm…
fertilizer prices:
– 2021: $300k
– 2022: $800k
Gas prices in fall: $21k/month

Start preparing now.

— Rhyen Staley (@DunedainRanger9) March 15, 2022
You can only imagine what his gas prices are now. The question is whether he can continue to keep producing. At some point, he will have to say, "Enough is enough" and stop farming.
Then, there are the riots in Sudan:
Food and fuel riots now ongoing in Sudan.

The country spends about half a billion USD annually on imported wheat, with roughly half of that total purchased from Russia.

Sudan is also a growing importer of Russian arms. pic.twitter.com/5ijvMWov20

— HUNTSMAN 🇺🇸 (@man_integrated) March 14, 2022
And Turkey isn't far behind:
Food shortages: In Turkey, sunflower oil will be limited to 2 liters per family per month starting next week.

Ukraine is one of the largest exporters of sunflower oil.

Sound ONhttps://t.co/bwoHh5LmE3 pic.twitter.com/y7BONNAGHt

— Wall Street Silver (@WallStreetSilv) March 13, 2022
China is having their own issues, but it looks like Putin provided Xi with a little advanced notice:
Looking back at this, I have no doubt Putin tipped Xi off that something was about to go down in Ukraine. Especially since China imports 60-90% of its corn from Ukraine. https://t.co/dbQ3VPqDzv

— Nathan Carson (@ndcarson) March 13, 2022
Unfortunately, long term, China is in trouble. And, I wonder if Xi will invade Taiwan to distract the Chinese people from their woes:
Food security is national security. Food insecurity breeds domestic unrest.

The CCP knows this and is terrified of rising food prices. Its only recourse in the face of rising food prices is to stoke the fires of nationalism.

Expect a more bellicose China later this year. https://t.co/CDAsa04FRU

— Nathan Carson (@ndcarson) March 18, 2022
Then, to add insult to injury, a key Canadian railroad is about to go on strike:
American farmers better buy potash NOW. With Russian and Belarusian potash gone and now Canadian potash being disrupted, 67% of global potash is now compromised in some way.

It's going to be a rough season for growers.https://t.co/gTs6NFHOoF

— Nathan Carson (@ndcarson) March 18, 2022
By the way, if you are on Twitter, read what Nathan Carson is saying. Food is the future, and you need to be paying attention to it.
Oh, and don't forget that energy and food are closely intertwined:
Energy ignorance is hurting real people today – across the world.

The humanitarian food crisis to come due to fertilizer shortages is a direct result of that ignorance.

Politicians around DC scoff at people like us who have worked energy our whole careers.

You guys can own it

— EnergyCynic (@EnergyCynic) March 19, 2022
Our food security problems will spike this year. But, even if this war in Ukraine ends quickly, famine will still become a very long term problem. And, Tucker Carlson echoed this sentiment yesterday, when he said this:
"If you want to make a society volatile — not just angry and divided, which is where we are now, but revolutionary and explosive — you threaten the food supply. More governments have fallen to rising food prices than any other cause. Hungry people are dangerous."
That quote comes from this video clip:
Tucker: The standard of living is plummeting
He's absolutely right. And, the world is going to see an amazing level of violence. This will be very bad, and it will only get worse. As he said, "Hungry people are dangerous." It won't be just in the Third World, but in our streets.
A New Financial System
What Putin did, in his invasion of Ukraine was to finish the destruction of our financial system. The US government started the process a long time ago, but it has accelerated in recent years. Here is an interesting overview of how that happened, and why:
The Grant Williams Podcast: Luke Gromen – FULL EPISODE
You might need to listen to that a few times, and look up some of the terms used in that podcast. BUT, it is a valuable introduction to how we got here, and where we are going.
Unfortunately, I don't share the optimism of Luke Gromen. Yes, manufacturing will return to the United States, but the average person's income is going to be crushed. Everyone will suffer in this. The value of the dollar will collapse. America's military will no longer be able to project power abroad. Those who depended upon social security and welfare will become destitute.
In short, this will be a very bad time for everyone.
Quoth The Raven has a far more pessimistic view:
"…our quality of life in the United States and our nation's entire economy is an elephant balancing, on one leg, on the toothpick of the U.S. dollar's reserve status."
That's from this article on his substack page:
The Dominance Of The U.S. Dollar Is Fading Right Before Our Eyes
https://substack.com/profile/5419983-quoth-the-raven
And as America crashes, expect whoever-Gog-is to gather an alliance and challenge what's left of European and American hegemony. We are already seeing Putin getting support from Asia:
Russia Says 16,000 'Volunteers' Want to Fight, Most from Middle East
https://www.breitbart.com/middle-east/2022/03/11/russia-says-16000-volunteers-want-to-fight-most-from-middle-east/
Turkey Says It Will Not Impose Sanctions on Russia over Ukraine
https://www.breitbart.com/national-security/2022/03/14/turkey-says-it-will-not-impose-sanctions-on-russia-over-ukraine/
China is definitely on Team Putin, and India is already in talks to buy oil from Russia, in rubles. And, you'll never guess who wouldn't take Joe Biden's phone call. Yeah, Saudi Arabia. And, we saw this yesterday:
Secretary Blinken's planned trip to Saudi and UAE is no longer happening this month: US sources.

— Joyce Karam (@Joyce_Karam) March 18, 2022
That's a big OOPS, kids. The US has made too many blunders, and the UAE and Saudi Arabia are tired of it. I mean, America plans on taking the biggest terrorist organization on the planet, off of the sanctions list:
Axios is confirming my reports that the U.S. is looking to de-list the IRGC as part of their deal with Iran.

Reminder: the IRGC is actively plotting to assassinate current and former senior U.S. government diplomats, generals, and officials on U.S. soil.https://t.co/L1e10zMiha

— Gabriel Noronha (@GLNoronha) March 16, 2022
I have always despised US foreign policy. It's pure evil, and getting worse. And, this is all happening at a time when our financial system crashes and energy prices explode:
Great total economic wrap-up of the ongoing global energy price shock.

Cost of energy went from 4% of global GDP in 2020 to a likely all-time record of 13% GDP this year.https://t.co/5HjlIIPsx2 pic.twitter.com/ujlebBkk5X

— Rory Johnston (@Rory_Johnston) March 18, 2022
Normally that graph would tell us that a recession is on the way. But, I don't think that this will be just a recession. That image, and the prediction for this year, means suffering and violence everywhere.
Russia's Invasion Of Ukraine
As I have said before, and will say again:
What Putin did was evil.
Again, I despise American foreign policy. I despise the fact that they lured Putin into doing this. I despise the vile snakes that are behind America's prodding of The Bear. But, none of that changes how evil and vile this decision was.
Here, take a look at a video clip that Zelensky played for the US congress:
The violence and suffering in that video is real. And no, I don't care what people think of Ukraine or Zelensky. That doesn't matter. What matters is the evil that is happening right now to people who did not ask for it.
Putin did this.
It matters.
However, not even the Russians are all that happy with this war:
Is World War Z popular in Russia?

80 000 ppl attended Z-rally in Moscow. Midwits compared its size with smaller anti-war protests and concluded it's a proof of mass Z-enthusiasm. Midwits are unable to comprehend two factors that rule this world: leverage and incentives 🧵 pic.twitter.com/0Jdwzsf38P

— Kamil Galeev (@kamilkazani) March 18, 2022
Scroll through that thread, and you'll find that Russian support for Putin's invasion is fake. There might be places in Russia that don't have Internet access that don't know what's going on, and THEY might think highly of this war. But, all the military age young men who are fleeing Russia clearly do not.
I highly recommend paying attention to Kamil Galeev. He grew up in Moscow and has an instinctive understanding of what goes on there:
Kamil Galeev
https://twitter.com/kamilkazani
There are historical and cultural reasons why this war is happening, and I think that Kamil has a grasp of what those reasons are.
The good news is that Russia is taking a beating in this war. If you want to see billions of dollars of destroyed Russian tanks, trucks and armored personnel carriers, go here:
Rob Lee
https://twitter.com/RALee85
(Rob Lee is a USMC veteran, and clearly knows what he's talking about.)
The Russians have suffered heavy casualties, and it was a complete shock to them. They did not expect how hard it would be to win this 'short victorious war'. The Ukrainians are fighting back with tenacity and demonstrating how badly trained the Russian military is:
One of my big takeaways from this war and the 2nd Karabakh War is how important small unit leadership and competency is in modern warfare. Dispersion, initiative, and decentralized execution are critical, and we have better NCOs, which is a significant advantage. https://t.co/BdkRqzfFVl

— Rob Lee (@RALee85) March 18, 2022
Rob Lee's Tweet reminded me of a story from more than twenty years ago, when my brother commanded an OPFOR training company in Germany, at a place called 'The Box'. He was supposed to emulate Russian tactics. A Russian officer visiting my brother to observe, pointed to an APC taking independent action and moving off.
"What is he doing?"
My brother replied, "Dunno, probably taking advantage of an opportunity."
The Russian said, "We don't do that."
Russia had years to fix what was broken, and didn't. No solid core of NCOs. Political generals. Brigade commanders forced to lead from the front, because their units are bad at following battle plans. Armor units unsupported by dismounted infantry. No recon units to flush out ATGM teams. Running away from an ambush, instead of assaulting the point of fire. Imprecise artillery fire.
Russia's battle plan seemed to be 'go on a thunder run' through Ukraine, and be back in time for dinner. It didn't work out that way, so they'll go back to their traditional methods of bombing cities apart, like Grozny and Aleppo.
Some are saying that their failures are not just tactical, but strategic:
Russia headed to strategic defeat in Ukraine
I'm not as optimistic as that video. Russia has the capability of pounding Ukraine flat and killing millions of Ukrainians in the process. And, since Putin doesn't have a safe way to climb down from this, that is probably what they are going to do.
Here's a Tweet that contains a clip of Russia's advances:
A video showing the movement of Russian troops across Ukraine throughout their invasion since Feb 24th.
Please view in full screen as some of the earlier days are not as clearly marked. pic.twitter.com/fGRIYjabat

— Nathan Ruser (@Nrg8000) March 19, 2022
Russia pretty much paused their offensive for a week to regroup. That pause won't last very long, and there will be a decided change of tactics. Initially, they tried to avoid civilian casualties. I doubt that they will continue to be so 'gentle' going forward. Just look at the devastation of Mariupol. It will be like that, everywhere in Ukraine – especially, east of the Dnieper River.
Pay attention to the Joint Forces Operation (JFO) area in Eastern Ukraine:
Thread on the current status of the war. There are 4 areas/cities to watch over the next 1-2 weeks:
-Mikolaiv
-Mariupol
-Joint Forces Operation area
-Kyiv
Russian forces are having some successes pushing against JFO but less against Kyiv and Mikolaiv.
(map from @TheStudyofWar) pic.twitter.com/WPCD0Tls3S

— Rob Lee (@RALee85) March 18, 2022
They are running low on food, and I doubt that they have much ammunition left. NATO countries are sending in ATGMs and MANPADS, but I'm not sure that it will be enough to keep the JFO alive. And, I'm betting that the Russians are starting to learn how to deal with Ukrainian tactics.
Peter Makin, in the comment section from last week's post, shared a good YouTube channel that has been tracking this war, and I've been paying attention to it. Here's today's post:
Ukraine War / Day 23 and current situation 2022 #Ukraine #Russia #NATO
(That channel, Military101, comes out of Turkey and seems to be pretty unbiased.)
I want the Russians to lose. What they are doing to Ukraine and the Ukrainians is pure evil. You cannot be a Christian and be neutral on this point. Putin had a choice and chose a vile, hideous and obscene path of violence and destruction.
Again, watch this video, if you haven't:
Putin and the Russians are engaged in mass murder. It's that simple. And, there can be no question about this. The only thing that we don't know is the final body count.
When Gog Comes
As I have been saying for weeks now, I think that we should be considering which horse of the Apocalypse is about to ride, and then… how this points to the coming of Gog and Magog. I have proven that Gog comes long before the Antichrist rises, and you can see that proof, here:
I truly hope that you'll be ready for this
A prudent man foreseeth the evil, and hideth himself: but the simple pass on, and are punished. – Proverbs 22:3
————————————–
If you find a flaw in my reasoning, have a question, or wish to add your own viewpoint, leave a comment on the website. Your input is truly welcome.
————————————–
Keep Omega Shock alive with a donation.
Click the following link and SHOCK your inbox with The Shock Letter:
(Click HERE to make sure that it gets to your inbox.)
Read my books:
Find these posts on Facebook and Twitter.
————————————–