In our haste to examine the pandemic that sweeps the globe, we have forgotten that we live in the last chapter of history. So, maybe we should think a little more deeply about why this is happening at this moment in time.
Why has this virus arisen at such a vulnerable time?
Why are people and politicians reacting with such insanity?
Why have we forgotten that evil NEVER goes unpunished?
I sense the Hand of God in all of this, but I understand if you don't agree. However, it is undeniable that there is something unique going on.
————————————
Subscribe to The Shock Letter and receive my articles in your inbox:
Or, get Omega Shock news via feed:
– or –
https://www.omegashock.com/feed/
You can also find these posts here:

https://facebook.com/omegashock1
https://twitter.com/omegashock1
Read my books for free:
Keep the Shock Letter from going to the spam folder by following the instructions, here:
https://theshockletter.com/spamsettings.html
————————————
A Perfect Storm – Final Warning or Final Judgment
A Perfect Storm – Final Warning or Final Judgment
YouTube shortlink: https://youtu.be/QISA8S27nss
MP3 Audio:
https://www.omegashock.com/shockcast/2020/20-03-18-a-perfect-storm-final-warning-or-final-judgment.mp3
————————————
We've all heard of a 'perfect storm'. They've happened throughout history, where a series of catastrophic events happen at just the right time to change the course of humanity. The Plague of Justinian weakened two great empires, just before the rise of Islam. The assassination of Archduke Ferdinand happened just as the imperial ambitions of France, Britain, Germany and Russia were balanced on a knife edge. And, the return of the children of Jacob to the Land of Israel, happened just as the Ottoman Empire was falling.
All of that was God's intervention, to bring us to this moment in time. And, I believe that this might be another divine intervention. The Hand of God is involved in this conflagration, but I don't know whether this is merely a warning or the beginning of judgment – or both. And, it has everything to do with our fragility.
The Perfect Storm
Take a moment to think about where we stand. Our economy is more global than at any other time, while also being the most complex and fragile in history. Our economy's lifeblood – the financial system – is equally global, while teetering on the edge of complete breakdown. The center of all of that is the United States which has never been more more militarily powerful, while also being stretched so thin. All of this power and wealth encompasses a world population that has never been so large, while also being so vulnerable to disruption. And, every bit of that is powered by a completely unprecedented level of energy production that is threatened with collapse.
And then, to ensure that this is the most complete catastrophe since the Flood…
…we have never been more morally bankrupt, than we are, right now.
We truly stand at the doorstep of great apocalypse. Not the Apocalypse of John (aka, The Book of Revelation), but an apocalypse – or revelation – that will reveal the weak and corrupt foundations of our civilization. The very act of this revelation of weakness will unleash a firestorm of financial destruction, followed by economic upheaval and then… cataclysmic war.
That is the Abyss that our civilization stares into, right now.
We are literally teetering on the edge of the chasm that all great civilizations have fallen into. And, many of us wonder if the Wuhan Coronavirus (COVID-19) is spreading hysteria at just the right time to make this collapse happen.
The timing of this virus outbreak is so perfect, I can only sit in wonder at it.
Is this another Archduke Ferdinand moment that launched World War I and started the destruction of the European empires, to make way for the American Empire?
Is this another Plague of Justinian that marked the beginning of the end of the Byzantine and Persian Empires, to make way for Islam?
God's Judgment
I would say yes, except for the possibility that this might just be a final warning before God's judgment falls upon us. We won't know until we see evidence of recovery.
And yes, I really mean it when I say God's judgment.
We have become so evil and so corrupt, that God would need to apologize to Sodom and Gomorrah for destroying them, when we have proven ourselves to be worse than they. At least, with Sodom and Gomorrah, their corruption was limited to their own little valley. Not so, America. America has spread her corruption around the world, even to such far-flung corners, like Taiwan.
And yes, I truly believe that we have hit the limits on how much evil God will tolerate. It really is only a matter of time before the Lord proclaims 'Game Over'. And, I find it very strange that so few Christians understand this.
Carnal Christians
Christians have forgotten that God does not change.
Is this why our churches have become carnal and disobedient?
The list of reasons is long, but it should be utterly clear that our churches have become dens of iniquity. We tolerate and encourage a level of sin that is beyond my ability to comprehend.
Just a glimpse at the facts should be more than enough. The divorce rate among Christians is only a little lower than non-Christians. Women who claim to be Christian are murdering their unborn children only a little less than those who do not claim to follow Christ. Christians are engaging in adultery and fornication at levels that we have never seen in 2000 years.
Worse, we send out missionaries into the world to teach and preach our disobedience and sinfulness. I have met far too many of them, and I am appalled. Just take a look at my own situation, where I live in Taiwan, in the city of Tainan. Of the several English-speaking missionaries that are leading churches in this city, every one of them is in direct disobedience to God. EVERY. SINGLE. ONE. I have to travel two hours to find a church service that actually tries to follow what the Bible says.
Our corrupt churches and corrupt missionaries are a blasphemy against God. And, there is a limit to how much of this damage to His holy name that God will tolerate.
Why do we call ourselves Christian, if we refuse to submit to what God says?
Judgment Begins At The House Of God
The following verse reverberates throughout the Bible:
For the time is come that judgment must begin at the house of God: and if it first begin at us, what shall the end be of them that obey not the gospel of God?
Do you understand this?
Judgment begins in the House of God.
It starts with us. We are the ones that God will come to first, and those among us who have sinned greatly, will suffer greatly. And, we will deserve every bit of that judgment. And, that judgment will not end there.
The Wicked Flee When None Pursue
After it comes to us, judgment will come for the rest of the world, for the evil that THEY have done. And, we see the seeds of this judgment in the world's response to the Wuhan Coronavirus.
Why are we in such a panic?
I'm not saying that we should not take reasonable precautions to avoid contracting such a nasty virus. I do this every year during flu season. I don't touch my face when I'm out and about, and I wash my hands when I come home.
But, shutting down an entire economy?
Are they insane?
Well…. yes.
Proverbs 28:1 says this:
The wicked flee when no man pursueth:
but the righteous are bold as a lion.
The wicked are fleeing. They are in absolute panic. And, their panic will do far, far more damage than this virus would ever do.
But, what does Proverbs say about the Righteous?
They will be as bold as a lion.
If you need an example of righteous boldness, go here:
The Wuhan Coronavirus – A Wuhan Pastor Responds
https://omegashock.com/2020/02/05/the-wuhan-coronavirus-a-wuhan-pastor-responds/
THAT, is boldness. In the midst of a city that was terrified, a Christian pastor was not. And, his example should be our example.
Are you an example of the Peace of God?
Or, are you an example of how the wicked flee?
Unfortunately, far too many of our churches are full of the wicked, and it's depressing to see. I can hardly believe how awful we have become. But, these are the Last Days, so I should not be so surprised.
The Road Ahead
What concerns me now is the road ahead. This moment will either mark the beginning of a global depression, or it will be just another warning. Global, civilization-destroying depression is coming. The only question is timing, and I am notoriously bad at timing.
The one person who is good at timing is Martin Armstrong. And, he is in the process of creating a report on what he sees happening, financially, in the months and years ahead. That report will be titled:
Coronavirus & Next Great Depression
The Insanity of Caution.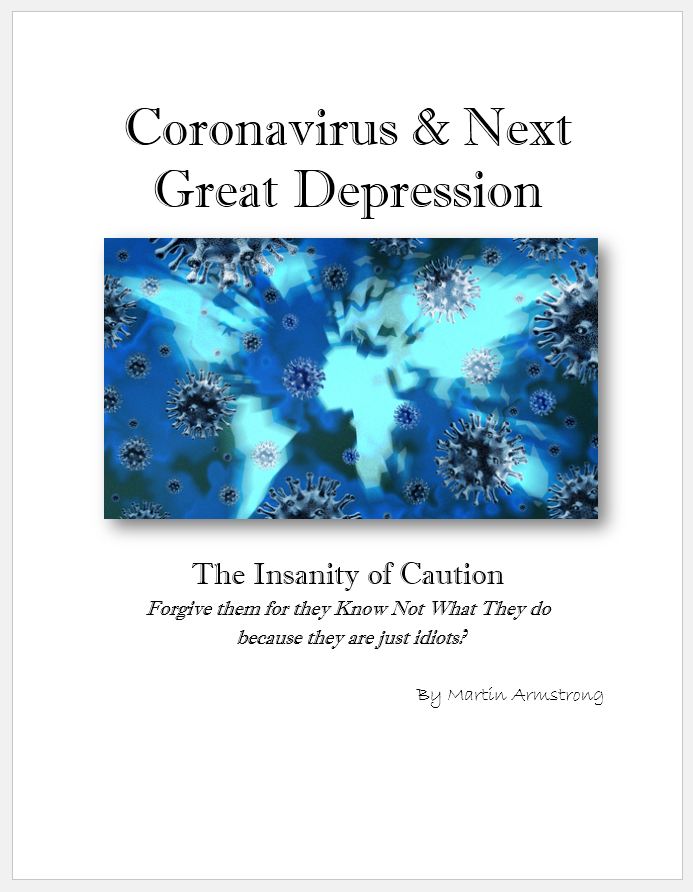 When it comes out, you'll find that special report, here:
https://www.armstrongeconomics.com/product-category/reports/
It will be offered for ten bucks, and it will be worth every penny. I am bad at timing. Martin Armstrong is not. So, please pay attention to what he says.
The Fall Of Civilization
The only thing that Martin Armstrong leaves out of his calculations is the collapse of energy production. And, I believe that the coming 'Greatest Depression' will finally reveal how dire our situation is. When that happens, civilization as we know it, will fall.
All empires eventually fall, and America will be no different. Unfortunately, the fall of America will bring years – even decades – of chaos. The only question is how fast America will fall, and when it will happen.
We have sinned against God.
Judgment is coming.
I truly hope that you'll be ready for this
A prudent man foreseeth the evil, and hideth himself: but the simple pass on, and are punished. – Proverbs 22:3
————————————–
If you find a flaw in my reasoning, have a question, or wish to add your own viewpoint, leave a comment on the website. Your input is truly welcome.
————————————–
Click the following link and SHOCK your inbox with The Shock Letter:
Or, get Omega Shock news via feed:
– or –
https://www.omegashock.com/feed/
You can also find these posts here:
https://facebook.com/omegashock1
https://twitter.com/omegashock1
Read my books for free:
————————————–