Of all the issues about pornography, this one is the worst:
Christians consuming porn.
The Bible calls it fornication. Jesus took it a step further and said that it was adultery. And, our churches are full of adultery and fornication. In fact, we are so full of wickedness and evil that we are indistinguishable from non-Christians.
I am heartbroken over this. We have corrupted ourselves horribly, and God's Wrath MUST come upon us because He is just. If you think otherwise, you haven't been reading your Bible.
And yes, you need to be reading your Bible.
————————————
Subscribe to The Shock Letter and receive my articles in your inbox:
Or, get the Shock Letter via RSS Feed:
http://www.omegashock.com/feed/
————————————
The Christian Porn Addict – Pornography Part 4
The Christian Porn Addict – Pornography Part 4 – The ShockCast
YouTube shortlink: https://youtu.be/B4xdrt8fEWQ
————————————
Brace yourselves, I have a message for those of you who claim to be Christian, while watching pornography:
In Part 3 of this series, I quoted this verse:
Know ye not that the unrighteous shall not inherit the kingdom of God? Be not deceived: neither fornicators, nor idolaters, nor adulterers, nor effeminate, nor abusers of themselves with mankind, Nor thieves, nor covetous, nor drunkards, nor revilers, nor extortioners, shall inherit the kingdom of God.
 – 1 Corinthians 6:9-10
I hope that you already understand what this means, but I will repeat it again for those who might not have been paying attention:
Active porn addicts will not go to heaven.
That verse is very specific, and similar verses are the same. If you do not give up this activity of watching pornography, you will spend an eternity in Hell. It won't matter if you have professed Jesus as your savior. It won't matter that you tithe 10% from every paycheck. It won't matter that you go to every service of the church that you are a member of.
Nothing that you do or say will matter, if you are watching pornography.
To paraphrase James in the Book of James:
You say that you have faith?
Prove it!
We are to obey God, even if it means – as Jesus said – cutting out our right eye or cutting off your right hand. And, the verse before that statement was:
But I say unto you, That whosoever looketh on a woman to lust after her hath committed adultery with her already in his heart.
 – Matthew 5:28
If you are watching pornography, you are an adulterer and worthy of death. In the eyes of God, you deserve to die.
Yes, I know that you always feel bad and say your sorry for doing it, but you keep going back again and again and again. You won't stop. And since you won't stop, God will send you to an eternity of suffering. And, you will deserve it.
God is merciful. He WILL forgive you of your adultery – IF YOU STOP IT. If you won't, then stop asking for forgiveness. God isn't stupid. He KNOWS what is really in your heart. You might have fooled yourself, but He isn't fooled.
If you were serious about quitting your porn addiction, you would cut off your Internet access, quit your job and move to Vanuatu – if that's what it takes to flee fornication. This is an eternal life and ETERNAL DEATH issue. And, you may only have this one chance, the one that I am presenting to you now.
YOU. MIGHT. NOT. GET. A. SECOND. CHANCE.
Do not play games with God. He is Just. And, He will NOT be trifled with. You either get serious about your eternal life, or stop calling yourself a christian.
Have I made myself clear?
Good.
For The Rest Of You…
Now, for the rest of you who are not watching pornography, my apologies for having had to hear all of that. One of the reasons why it is not appropriate for me to be a pastor is that I am a little too tough. Pastors need to be gentle, and I'm not. Although, I'm better than I was. Improvement is a good thing.
Mrs. Little has been a big help in the softening process.
But, let's talk about why I had to say all that. And yes, I did have to say all that because there are some Omega Shock readers who are not giving up their addiction to pornography. And, I've had people send me heartbreaking emails about loved ones and members of their church who are addicted to pornography. And, the children… the fact that THEY have become addicted …it breaks my heart.
So, before I delve into the statistics of Christians on pornography, let me say this to pastors and parents who might be blaming themselves:
It's not your fault.
You didn't do this. It was your child, or the dear member of your church that did this. You can only do your best to help, but it is the addict that needs to choose. It will still hurt to watch them make bad choices, but it will still be their choice.
So pastors, do your best to warn your flock.
Parents, do your best to create a pure, loving environment.
Above all, do everything in love.
Okay, on to the statistics. (Brace yourselves.)
70 percent of Christian youth pastors report that they have had at least one teen come to them for help in dealing with pornography in the past 12 months.
68 percent of church-going men and over 50 percent of pastors view porn on a regular basis. Of young Christian adults 18-24 years old, 76 percent actively search for porn.
59 percent of pastors said that married men seek their help for porn use.
Only 13 percent of self-identified Christian women say they never watch porn—87 percent of Christian women have watched porn.
57 percent of pastors say porn addiction is the most damaging issue in their congregation. And 69 percent say porn has adversely impacted the church.
Only 7 percent of pastors say their church has a program to help people struggling with pornography.
1 in 5 youth pastors and 1 in 7 senior pastors use porn on a regular basis and currently struggling. That's more than 50,000 U.S. church leaders. (note: I believe that this is an inaccurate number that is far too low – JL)
A pastor in Cincinnati, Ohio polled all the 7th graders in his church and 100% of those 11-year-old's admitted to having exposure to pornography.
50% of Christian men are addicted to pornography, despite knowing and believing that it is dehumanizing.
43% of senior pastors and youth pastors say they have struggled with pornography in the past.
64% of Christian men and 15% of Christian women say they watch porn at least once a month.
21% of Christian men and 2% of Christian women say they think they might be "addicted" to pornography or aren't sure if they are (compared to 10% of non-Christian men and 4% of non-Christian women).
47% of Christians say that pornography is a problem in the home (Internet Filter Review, 2006).
50% of all Christian men and 20% of all Christian women are addicted to pornography. 60% of the women who answered the survey admitted to having significant struggles with lust; 40% admitted to being involved in sexual sin in the past year; and 20% of the church-going female participants struggle with looking at pornography on an ongoing basis (Market Wire. August 7, 2006. ChristiaNet.com. December 7, 2006 http://www.marketwire.com/mw/r…e_html_b1?release_id=151336).
One out of every six women, including Christians, struggles with an addiction to pornography. (Today's Christian Woman, September/October 2003).
51% of pastors say cyberporn is a possible temptation. 37% say it is a current struggle (Christianity Today, Leadership Survey, December 2001).
30% of pastors have viewed pornography within the last 30 days. (Covenant Eyes, "Pornography Statistics 2014," 21 http://www.covenenteyes.com/pornstats/. "In 2002, of 1,351 pastors surveyed, 54% said they had viewed Internet pornography within the last year, and 30% of these had visited within the last 30 days." Brenton Evans, "Till porn do us part," FireProofMyMarriage.com. http://www.fireproofmymarriage.com/dload.php?file=_images/_needhelp/InternetSafety.pdf (accessed June 6, 2014).
34% of Christian women struggle with an addiction to pornography.( Ramona Richards, "Dirty Little Secret," Today's Christian Woman, September 2003, http://www.todayschristianwoman.com/articles/2003/september/5.58a.html(accessed June 9, 2014).
63% of men attending "Men, Romance & Integrity Seminars" admit to struggling with porn in the past year. Two-thirds are in church leadership and 10% are pastors (Pastor's Family Bulletin, Focus on the Family, March 2000).
1 in 7 calls to Focus' Pastoral Care Line is about Internet pornography (Pastor's Family Bulletin, Focus on the Family, March 2000).
Now, I just took what I could find and threw all that I found up there. Some of the numbers seem to be in conflict. I suspect that the lower numbers because they constructed the study badly.
Why do I believe those higher numbers?
Because I see far too much direct evidence that Pastors are involved in pornography. And, my interactions with Christian Millennials and Generation-Y Christians tells me that the higher numbers are the more accurate.
By the way, the above statistics come from here:
15 Statistics About the Church and Pornography That Will Blow Your Mind — Charisma News
https://www.charismanews.com/us/73208-15-statistics-about-the-church-and-pornography-that-will-blow-your-mind
The Most Up-to-Date Pornography Statistics
https://www.covenanteyes.com/pornstats/

The Effect Of Pornography On Families | Human Defense
https://humandefense.com/the-effect-of-pornography-on-families/

Enough Is Enough: Christians and Online Porn
https://enough.org/stats_christians_online_porn
Enough Is Enough: Christians and Online Porn Archives
https://enough.org/stats_christians_online_porn_archives

Then there's one more source. I wasn't sure if I should include it. The sample size is kind of small, but it looks like they really put a lot of effort into making sure that this study was accurate and scientific. And, it scares me, a lot.
It's this one:
Pornography Survey Statistics – Proven Men
https://www.provenmen.org/pornography-survey-statistics-2014/
Apparently, they want this citation to be included when quoting their findings, so here it is:
Proven Men Porn Survey (conducted by Barna Group), located at https://www.provenmen.org/2014PornSurvey/
This is the overview:
In 2014, Proven Men developed an extensive nationwide survey to obtain current data and statistics pertaining to the scope of pornography use and sexual behaviors. It hired the Barna Group to conduct the survey among a nationally representative sample of 1,000 U.S. adults nationwide. Barna Group developed an appropriate cross section of the population based upon gender, age, race, geography and other demographics to permit drawing appropriate conclusions. Respondents were told that the targeted questions would be about sexual behavior and pornography and were given a chance to opt out after answering background questions. Ninety-two percent of those beginning the survey agreed to participate in the questions pertaining to pornography use and sexual behaviors. The Barna Group established that the sampling error for the entire survey is ±3.1 percentage points at the 95% confidence level.
Barna is good at these kinds of studies. If they are wrong, it wouldn't be by much. And, they indicate the confidence level here, which is pretty high, even though the sample size seems to be a bit small. And remember, we're just trying to get a snapshot of the spiritual condition of Christian men in America. And, this 'snapshot' is horrifying.
Since I was only interested in the Christian part of their survey, they indicated that 388 men self-identified as Christian. And, the following quotes come from that data.
Yes, I know that this seems to be a small sample of men, but I'm familiar with how these studies are constructed. And again, if they are well-designed, they will be surprisingly accurate.
Here are a few of the worst stats:
Approximately two-thirds (64%) of Christian men admit that they view pornography at least monthly. With respect to Christian men between 18-30 years old, 77% look at porn at least monthly, and 36% look at porn at least daily. Within the Christian community, 54% of those identifying themselves as born-again Christians admit to viewing porn at least monthly and 14% admit to viewing porn daily.
Single Christian men look at porn more frequently than married men. For instance, 7 in 10 (70%) single Christian men look at porn at least monthly, and 1 in 4 (25%) view porn at least daily. However, over one-half (55%) of married Christian men admit that they still look at porn at least monthly and over 1 in 10 (11%) married Christian men look at porn at least daily.
The rate for born-again Christian men having affairs while married is at 31%.
Approximately two-thirds (64%) of U.S. men view pornography at least monthly. The number of Christian men viewing pornography virtually mirrors the national average.
More than one-third (35%) of married men and one in six (17%) married women report having had a sexual encounter with someone other than their spouse, while they were still married. The numbers for Christian married men and women mirror the national averages.
Please go to the site itself for more stats. There's a lot more there, and you can bet that it has all gotten worse over the past five years.
Now, think about that text that I have highlighted in bold:
The number of Christian men viewing pornography virtually mirrors the national average.
For adultery:
The numbers for Christian married men and women mirror the national averages.
That should tell you something. It means that we Christians are just as wicked and sinful as those outside the church. We are indistinguishable from the rest of the world.
THAT. IS. HORRIFYING!
Jesus said this:
Wherefore by their fruits ye shall know them.
 – Matthew 7:20
You should read all of Matthew 7, since it says that there will be those who claim to be Christian and are not. And, Jesus said that we will know the real Christians by their fruit. And, I'm looking at fruit right now, and I am astonished.
How many real Christians are left in America?
Of those who were watching pornography and/or were unfaithful, how many of them lied in those surveys and said that they did not?
Whenever I run into such awful news, I am constantly reminded of this verse:
For the time is come that judgment must begin at the house of God…

 – 1 Peter 4:17a
Judgment comes FIRST at the church. And, I believe that it has already begun. We have lost our first love. We are salt that has lost its savor. We have become clouds without rain. We are like a sounding brass and tinkling cymbal. We have become the foolish virgins.
I am amazed at how far and how fast we have fallen in just thirty years.
May God help us.
We are in so much trouble.
————————
Read my book, Ezekiel's Fire.
It's free, and it may just save your life.
Here's the website:
————————
PEAK OIL
The true feasibility of moving away from fossil fuels | Our Finite World
The bottom line of this article is that we can't. But, the details of WHY we can't are interesting.
Unfortunately, the writer of this piece is an Atheist and doesn't know how to communicate with the average person.
Basically, what she is saying is that each society is like a living being. And, every living being requires energy to survive and grow to its full potential. For human beings, that 'energy' comes in the form of calories. You need a certain amount of those calories to survive and thrive. The same goes for each society. But, instead of calories, we speak of energy.
Having said that, we COULD use calories, instead of the word 'energy'. For instance, there are 1,400,000,000 calories in a barrel of oil. Again, that's 1.4 million calories. Multiply that by the tens of millions of barrels of oil that we use every day, and we're talking about trillions of calories consumed in each 24 hour period.
Now, is there an alternative source of energy to oil or coal?
Well, yes. But, they don't work as well. It's like choosing to eat grass, instead of bread or meat. Try that for too long and you will starve to death. Those who do not will live stunted, deformed lives.
So, the future for our world is going to be on of death with the survivors stunted and deformed. And, the writer goes into detail about what that would mean. Women will need to bear six children so that two would survive. Men would need to go back to working with their hands. Only the fortunate few would live past 50. Education, government, healthcare, science, transportation, manufacturing… they would all collapse. Yes, there will be small bits of each, but without lots of energy they could never be very large.
Remember what I have said many times. Traditional, pre-oil communities could only support a very few number people who were not directly involved in farming. It took ten farmers to support one teacher. If they were prosperous, maybe they could support a blacksmith and a general goods store. And, we'll all need lots of horses.
Oh, and our societies will learn all about starvation when a harvest isn't as good as you had hoped it would be.
Read about life in the 1700s. That's where we are headed.
Oh, and think of all the death and destruction as the evil among us fight for what they believe to be their 'fair share'. Blood will run in the streets, and whole nations will collapse. In fact, it's already begun. Just look at Venezuela.
And, somewhere in the midst of this crisis of decline the Antichrist will arrive and promise us a way out of our troubles, if we will only take 'The Mark'. The horror of our situation will be so great that we will gladly do ANYTHING that offers even a glimmer of hope of escape.
Unfortunately, the average person will not see any of this coming until it is far, far too late.
It's the end of the world, kids, and it will be truly awful.
The Skeleton in the Electric Car Closet – Liberty Nation
To add insult to injury, we have this:
That represents part horrifying reality of the electric car – suffering.
AND EVEN MORE GENERAL MAYHEM
(sir!)
The Curse Of America's Thinking Class
If James Kunstler would change the name of his blog, I would link directly to his articles. He's a smart writer, and I try to read every one of his posts.
In this one he starts of with a question:
How might we account for the strange melding of neuroticism and dishonesty that has gripped America's thinking class since the ascent of Donald Trump as an epically reviled figurehead on our ship of state?
He goes on to talk about the pumping of the financial markets with dishonest policy 'interventions' and then says this:
The neuroticism and dishonesty is exactly what turned two of this country's most sacred and noble endeavors, higher education and medicine, into disgraceful rackets.
He also says this:

The thinking class's position on both legal and illegal immigration is possibly even more cynical — because they surely know how dishonest it is, even through the fog of self-deception.
Unfortunately, he's completely and utterly correct. The cynical evil of the Democrats would be embarrassing, if it wasn't so evil. And, Jim mentions Russiagate:
RussiaGate, of course, has been the most acute locus of neurotic dishonesty across this land the past two years.
Oh, and he then asks this final question:
And now, what avenue will all this diseased animus of the thinking class go down in its destructive, shame-fueled frenzy to justify itself?
Yes, that's a very good question. What will they do next?
To justify their evil?
Oh, and about Russiagate, ZeroHedge added a Michael Ramirez cartoon.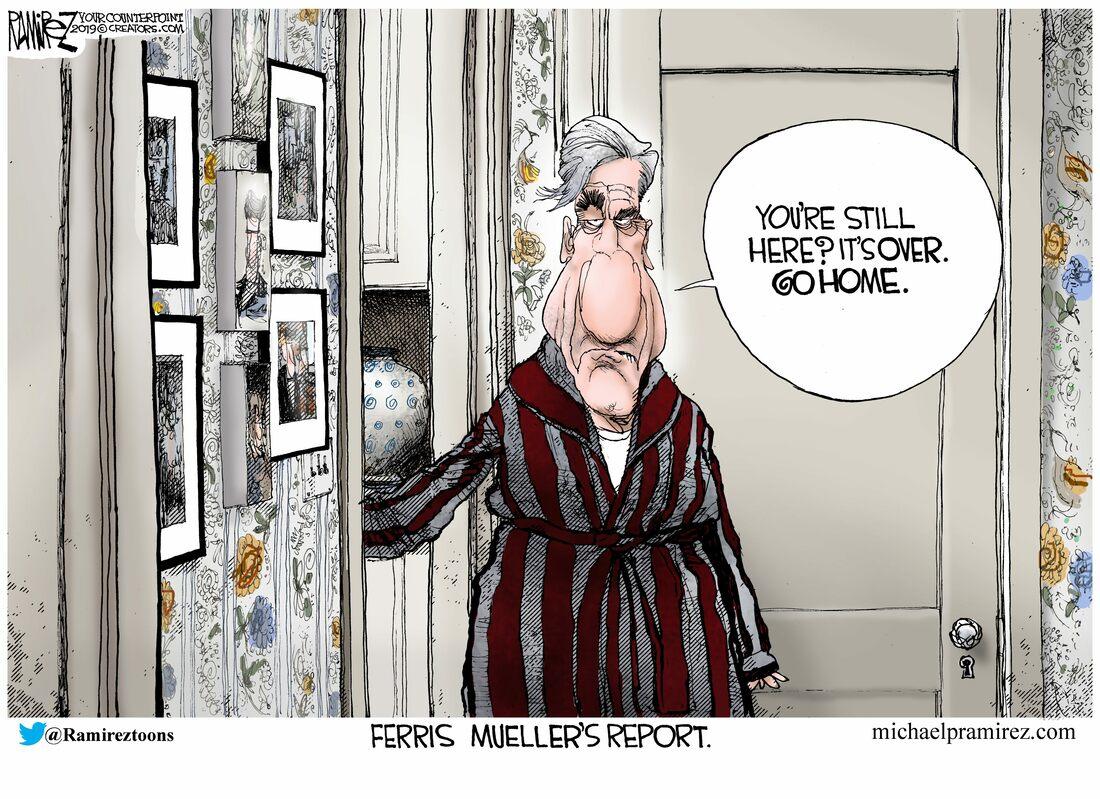 Yes Democrats. Please. Go home.
Solomon: Ukrainian Prosecutor Says Justice Department Refused Evidence On Dems – Sara A. Carter
So, the DOJ was given evidence that Hillary was colluding with Ukraine, and they refused it.
How… interesting.
100s Of Millions Of Dollars In Crops Destroyed By Flooding, And Farmers Are Being Told "There's Nothing The U.S. Government Can Do To Help" – End Of The American Dream
Ouch. I'm so sorry. I really am. This is terrible.
JUST A BIT OF HUMOR
Loose cannon cop on the edge. – GIF on Imgur
Yeah. If I was stuck behind an old guy, going that slow, I might lose it too.
I truly hope that you'll be ready for this
A prudent man foreseeth the evil, and hideth himself: but the simple pass on, and are punished. – Proverbs 22:3
————————————–
If you find a flaw in my reasoning, have a question, or wish to add your own viewpoint, leave a comment on the website. Your input is truly welcome.
————————————–
Click the following link and SHOCK your inbox with The Shock Letter:
Or, get the Shock Letter via RSS Feed:
http://www.omegashock.com/feed/
————————————–