It is truly amazing how vital silver is to our high-tech civilization. Without it, we're in deep trouble, and we really don't have that much in the way of alternatives. It really is a miracle metal.
Unfortunately, we've almost run out of silver in our warehouses. In fact, it is astounding to realize that there is ten times more gold in storage, than silver. That's a big wow.
The problem is that this collapse in silver inventories is coming at the worst possible moment in time. As our financial system teeters at the brink of collapse, a lack of silver is ready to bring us into apocalypse.
————————————–
Subscribe to The Shock Letter and receive my articles in your inbox:
————————————–
The Silver Apocalypse Cometh – SRSrocco
I love the word Apocalypse. It rolls off your tongue with such ominous tones and strikes just the right feeling of dread – when you want to give people a verbal whack-upside-the-head. And, I also like the word, because it is so heavily misused by Americans.
Why?
Because…
…Apocalypse does NOT mean disaster.
It's Greek, and it means 'revelation', or more literally, 'un-covering'.
Here's the original word, in Greek:
ἀποκάλυψις – pronounced apokalupsis (or, ap-ok-al'-oop-sis)
(And no, it is NOT apokalypsis.)
Let's see… where was I …ah yes.
So, the word means an uncovering or revelation, but we use it for disaster. And, THAT gives me an opportunity for a delightful double entendre. Every time you see me use the word Apocalypse, it's always in terms of BOTH a revelation AND a disaster.
Silver Apocalypse
Unfortunately, I find myself able to use this word more and more, and that is NOT a good thing. And, as the title of this article indicates…
…a silver apocalypse is coming.
You heard me talk about it last week, here:
System Collapses in 2014 – Harvey Organ
http://www.omegashock.com/2014/09/11/system-collapses-in-2014-harvey-organ/
And, I emphasized that article, with this one:
Silver – Miracle Metal of the Apocalypse
http://www.omegashock.com/2014/09/12/silver-miracle-metal-of-the-apocalypse/
When Harvey said that the global financial system was going to collapse over the next four months because of silver and gold… well …you can imagine how quickly I sat up and took notice.  But, at the same time, I couldn't be completely sure that he was right.
I needed some verification.
Behold Your Apocalypse
Well, we got some. Yesterday.
Behold your apocalypse: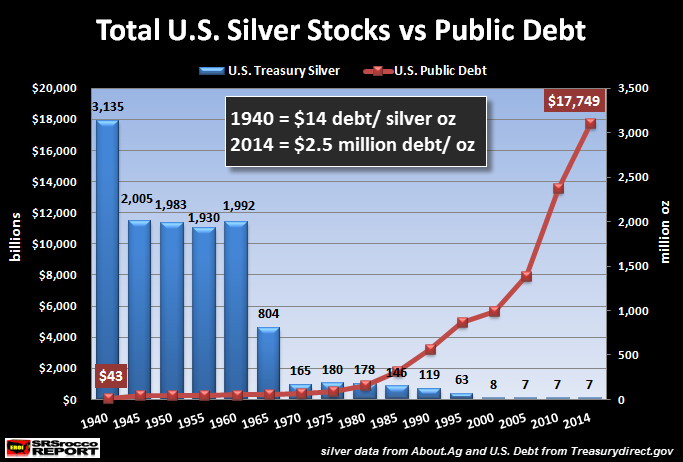 Above graph is from The Collapse Of U.S. Silver Stocks As Public Debt Skyrockets.
Dude, We're Dead
The Devil just signed our death certificate. We're dead.
That 7 million ounces of silver that they say the US has?
That's a lie. Try zero.
It's the same kind of lie that says that we have 8,000 metric tons of gold in Fort Knox and elsewhere.
You weren't born yesterday, right?
Right.
But, wait. It gets worse.
China uses two million ounces of silver in its industry – every month. And, they only have 2.9 million ounces in current inventory.
Furthermore, China signed a ten year agreement with the US in 2003, leasing thousands of metric tons of silver to America, and they want it back.
I See Apocalypse
Do you see a problem here?
Yeah. I see Apocalypse.
We are about to hit the point where the Lying Liars can no longer hide the fact that there isn't enough silver to meet demand – at a price of less-than $19/ounce. This will cause a 'failure to deliver' on one or more silver contracts.
That silver default will wreck the precious metals markets. The price of the physical metal will explode – out of sync with the official 'paper markets'. This wreckage of the precious metals exchanges will ripple through the other commodities exchanges, and then out onto the wider financial markets.
The Powers That B will try to keep the damage from spreading, but I doubt that they'll be successful. They do not seem to have much in the way of ammunition for fighting such battles. We'll see what happens, but you should NOT be optimistic.
And frankly, it all rests in the hands of the Chinese. THEY are the ones with the power to set in motion this implosion of the precious metals markets – and the collapse of the global financial system.
The question is whether they are ready to pull the trigger on such an event.
A Bit Of Review With Harvey Organ
If you have half an hour, I recommend that you listen again to the Harvey Organ interview on Greg Hunter's USAWatchdog.com:
Harvey Organ- By December Whole Thing Going to Collapse
YouTube shortlink: http://youtu.be/aZwSiHBxm0c
Again, SRSrocco.com confirms the numbers that Harvey is saying here, in the article that Steve St. Angelo posted yesterday:
The Collapse Of U.S. Silver Stocks As Public Debt Skyrockets
You do NOT want to be caught in the fallout of this collapse. You really don't.
This means that you MUST get as much money as you can out of banks and any other institution. And yes, I really do mean bank accounts, retirement accounts and everything else. My wife and I did that, and you should too.
(And yes, we paid the penalties.)
Next, you must prepare for a worst case scenario. I lay all that out here:
The Shock Plan for Getting Ready – Putting It All Together
http://www.omegashock.com/2013/12/13/the-shock-plan-for-getting-ready-putting-it-all-together/
It's probably not the best plan, but use it until you find one that's better – and then tell me what that best plan is.
And, if there's any money left over, go out and…
…wait.
Before you go out and buy as much silver as you can carry and as much gold as you can afford, there's something that I want you to do. It's very important.
No, it's vital.
Help The Helpless
Make sure that there is no one in desperate need around you.
…No, no, not like that.
I mean really, REALLY look.
Is there anyone that you can think of that needs help?
Would at least SOME of the money in your hands make a difference?
I'm not saying that you need to give away all of your life savings. And, just because someone needs money doesn't mean that it's a good idea to give it to them. Wisdom is needed here. But, we Christians have spent too much time stepping over the poor and ignoring the needs of the hungry. And, THAT needs to stop.
Dylan Wesolowski Rodriguez
And, if you still can't think of someone who needs help, I know of a little boy that desperately needs his mother: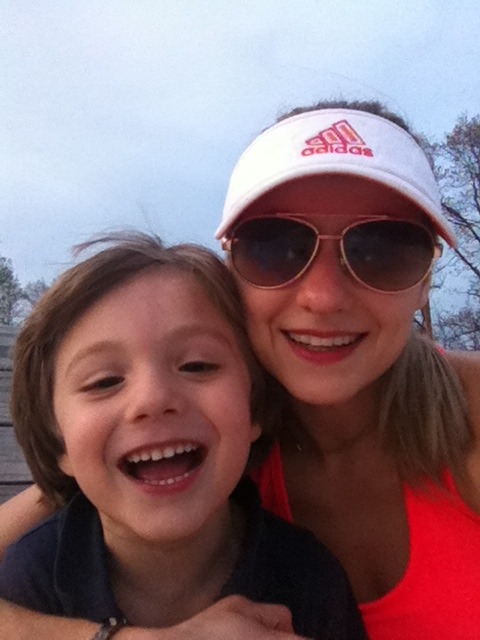 Dylan was stolen away by CPS, and his mother is in a life-and-death struggle to get him back. And, there is evidence that this little boy is getting molested, while in foster care.
Dave Hodges of thecommonsenseshow.com vouches for the authenticity and desperate need that little Dylan has. You can trust Dave, when he says that this is the 'real deal'.
Are you ready to help?
If you are, go here:
Return Dylan to his mom, stolen by CPS
http://www.gofundme.com/a3s554
Ask the Lord what He wants you to do, and then do it.
Pure religion and undefiled before God and the Father is this, To visit the fatherless and widows in their affliction, and to keep himself unspotted from the world. – James 1:27
God bless all of you who stepped up to the plate, on Dylan's behalf.
Now, with the money that you have left, go out and buy as much silver as you can.
Who should you buy it from?
Steve Quayle
As I said on Friday, I believe in doing business with sincere brothers and sisters in Christ who have proven their devotion to God. The only one that I personally know of, who is in the precious metals business, is Steve Quayle:
Steve has been a tireless watchman for the Body of Christ, and he deserves any and all business that you send his way. We are called by God to support each other, and that means working with fellow believers in Christ.
(Again, I do NOT get anything from Steve for saying that.)
In my Friday article, I asked you guys to tell me of Christians that you know who deal in precious metals, and I got some great comments in return. So, here are the dealers that many of you told me about.
The Moneychanger
Spud Webb left a comment that said:
Franklin and his family have always been great to deal with!!!
and Tom M said:
I can vouch for Franklin Sanders (aka "The Moneychanger")…very easy to work with AND a lay preacher to boot!
That was great support for Franklin Sanders' 'The Moneychanger'. And, when I looked at their 'About Page', I saw this:
Our goal is to help Christians prosper with their principles intact in an age of monetary and moral chaos. Yes, we are Christian—but we should not have to tell you that. It is our sincere hope and desire that you experience something in the way we speak to you and serve you that demonstrates we are Christian.
THAT is very, very impressive.
You can find The Moneychanger, here:
Lear Capital
ty left a comment that said:
the owner of Lear capital is another brother in Christ who supports Christian ministries thru his precious metal business.
Lear Capital doesn't advertise itself as a Christian company, and that is perfectly fine. I think that we know of far too many who try to pass themselves off as Christian, while lying and stealing you blind. That's happened to me, so I tend to be a bit cynical about 'protestations of piety'.
You can find Lear Capital, here:
Cloud Hard Assets
Dave Kean left a comment that said:
For several years I have been buying bullion (silver and gold eagles) from Tom Cloud of National Numismatic Associates in Georgia (I live in Oregon). Tom is a believer and has been in the precious metals business since the late 1970's. He deals in all types of coins and precious metals including platinum and palladium, and his pricing includes insurance and shipping costs. It takes about two weeks to receive my orders after his company's bank has processed my check. He can be contacted at 800-247-2812 or by email tgcloud@bellsouth.net.
I did a search for the website of National Numismatic Associates and couldn't find anything, until I stumbled across this:
I also stumbled across some interviews on Greg Hunter's USAWatchdog.com, and these interviews should give you some idea of the kind of person Tom Cloud is:
http://usawatchdog.com/people-want-physical-gold-and-silver-in-their-hands-tom-cloud/
http://usawatchdog.com/german-gold-not-last-one-holding-the-bag-tom-cloud/
http://usawatchdog.com/bonds-next-killing-field-of-investments-tom-cloud/
And, his links page has compass.org on it. So, he's not shy about his faith.
Again, please leave a comment below and tell us about a Christian dealer in precious metals that you personally know. I would be more than happy to add to the list.
Choose One Of Those Four
So, you have four gold and silver dealers to choose from.
Now, go out there and get some silver.
I truly hope that you'll be ready for this
(That's a link. There's not much time left.)
A prudent man foreseeth the evil, and hideth himself: but the simple pass on, and are punished. – Proverbs 22:3
——————-
note – I am not offering financial or disaster preparation advice in a professional capacity. These are merely my own thoughts on what I would do in these situations.
——————-
If you find a flaw in my reasoning, have a question, or wish to add your own viewpoint, leave a comment on the website. Your input is truly welcome.
————————————–
Click the following link and SHOCK your inbox with The Shock Letter:
————————————–