When I finished yesterday's article on the Depository Trust & Clearing Corporation (DTCC), I knew that I had glossed over something important. I was so focused on the appalling reality of the DTCC's ownership of everything, that I didn't fully address one very important issue. I say 'fully' because I did address it in the form of a question:
What would happen in a pandemic, when massive numbers of people lose their lives due to illness?
Of course, what I am alluding to is the use of a biological weapon. And, the owners of the DTCC stand to reap tremendous profit should a massive number of Americans die.
————————————–
Subscribe to The Shock Letter and receive my articles in your inbox:
————————————–
The DTCC and Biological Weapons
Last year, the ownership of homes, free and clear of a mortgage, was 29.3% according to census figures reported by doctorhousingbubble.com. That's the lowest that it has ever been. But, it's still a lot.
However, retirees – and those about to retire – are the largest component of those who own their own home, free and clear of any mortgage – which means that they actually hold the title in their hands.
Now, what do you think would happen if these retirees were to lose their social security income?
Well, everyone needs to eat, so they would turn to the only thing of value that they have – their home. They would remortgage their house to make up the difference. Of course, not all retirees would do that, but quite a number would. And, the banks would line up to loan out money in exchange for that valuable title – so that they could bundle it up with the other titles that they grabbed, and sell them.
Who would hold these titles?
The DTCC.
But, you knew that, from our discussion, yesterday.
Then, there are those holdouts who would stubbornly refuse to remortgage their houses.
But, what if their retirement accounts are wiped out by inflation?
What about those homeowners who lose their jobs, or have no retirement?
The point is that more and more people are going to hand in the title to their assets, so that they can feed themselves and their families. And, when the economy turns further downward, this process will accelerate.
If I had the time, I could do an analysis on what we could realistically expect the statistics to be for free and clear ownership of homes, when this process bottoms out.
Would it be even as high as ten percent?
That off-the-cuff calculation might not be far off, when you look at the following graph: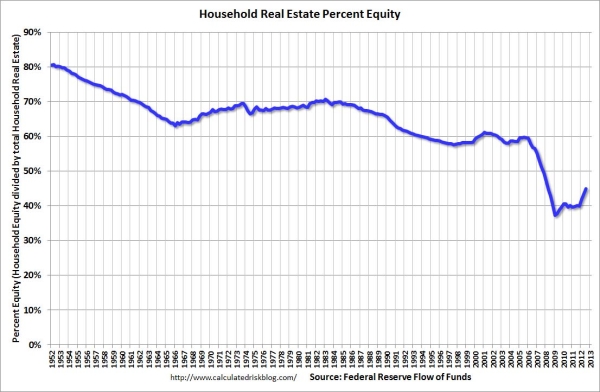 In three years, from 2006 to 2009, equity went from 60% to just over 35%. And, a worse crash is coming – right at the time when the rate of retirement is accelerating.
(By the way, that graph is NOT for free-and-clear home ownership,
but of the total percent of equity that people have in their homes.)
But, there's another graph that I picked up from the same web page. It's this one: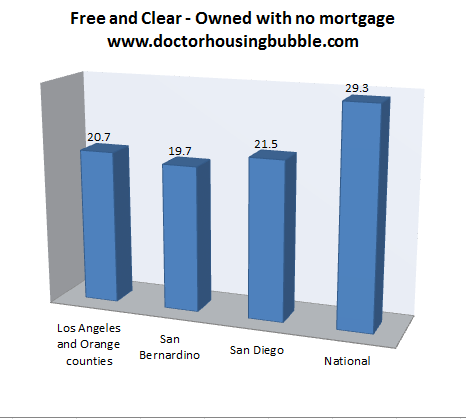 Notice that free and clear home ownership in cities is close to ten percent less – than those outside of cities. So, when 'free and clear' home ownership collapses, it will collapse hardest in the cities.
Who is going to be the beneficiary of this decline in home ownership?
The DTCC – the Depository Trust & Clearing Corporation.
Enter The Bio-Weapon
Now, I put the ominous words Biological Weapons in the title of this article. So, let me ask you a question:
If massive numbers of Americans die, due to a pandemic/biological attack, what would happen to their assets, if there was no one to claim them?
Normally, they would go to the state government in which the asset is located, but not if the ownership of those assets is held by someone else.
…someone else, like the DTCC.
Replacing Americans With Compliant Immigrants
And, the DTCC could then turn around and offer that housing to anyone else, now that their original owners have been cleared out.
Who would they offer that housing to?
Anyone willing to come to the US and pledge allegiance to the political system that would rise from the ashes of such a biological attack.
Think about that for a moment.
Have you noticed how willing the inhabitants of Ferguson, Missouri were, to be cowed by a show of force by the police?
You could argue about all the foolishness that has gone on, including the rioting and the agitators from out-of-town, but you will notice one thing very clearly – no one in Ferguson is willing to accept the situation passively.
Whether or not Michael Brown deserved to be shot by the police is a separate issue. The point is that Americans don't have a habit of being passive. Yes, they are far more passive than they have been in the past, but they are still not passive.
What do the Luciferian, Illuminati Elites want?
They want complete passivity. Complete.
They want a populace that will submit to overwhelming force. They want a people that they can depend upon to follow orders.
Why?
Because, when they take over, they don't want a counter revolution.
Cui Bono
Now, you are probably thinking that this is a pretty sick and twisted theory for even someone like myself. And, I understand that. I'm not sure that I'm willing to go with this, and I am NOT saying that this is THE PLAN of the Illuminati. It could be something else.
But, when you stumble across a shadowy entity that holds ownership of all the assets in the United States – and even the rest of the world – you need to ask:
Cui Bono?
Who Benefits?
And then, you need to ask:
HOW would they benefit the most?
Sick And Twisted Luciferian Elites
Please understand that the owners of the DTCC are some of the most vile psychopaths in the world. These people have no conscience and are willing to kill as many people as it takes to gain more power and make their lives easier.
Remember also the god that they worship:
Satan.
And, Lucifer seeks only to steal, kill and destroy – the more, the better. (John 10)
Zbigniew Brzezinski
The followers of Lucifer will support any plan that has the greatest chance of success, that gives them the greatest amount of power, and that kills the largest number of people. As Zbigniew Brzezinski said:
Major world powers, new and old, also face a novel reality: while the lethality of their military might is greater than ever, their capacity to impose control over the politically awakened masses of the world is at a historic low. To put it bluntly: in earlier times, it was easier to control one million people than to physically kill one million people; today, it is infinitely easier to kill one million people than to control one million people.
– Zbigniew Brzezinski
That chilling pronouncement was made on November 17th, 2008, before the British Luciferian Elites of Chatham House, the ever-so-English version of the CFR. His speech was titled:
Major Foreign Policy Challenges for the Next US President
It was here:
http://www.chathamhouse.org/events/view/155245
Here's the audio of the first few minutes of his speech:
YouTube shortlink: http://youtu.be/OuvxfUoDkkk
Apparently, you can get the whole speech here:
Part 1 – http://youtu.be/X4Qv7lbVw9s
Part 2 – http://youtu.be/q9YTp6jRVt4
Part 3 – http://youtu.be/FeHpdI_LJrI
Part 4 – http://youtu.be/TmE3NxarKOs
Part 5 – http://youtu.be/ZaGZ6ebzyiM
(I'm sorry that I haven't been able to give credit to the person who recorded and created the video. It was a brave soul who did that, and deserves lots of praise – if he or she is still alive.)
This Is A Death Sentence
That speech is a death sentence for all the nations that consider individual liberty to be of ANY value. The Antichrist system that is coming will be able to tolerate none of that, so they will kill off as many liberty-minded people as they can.
And, do not think for a minute that there will be ANY hesitation on their part.
Please understand that these are the Last Days, and Jesus said this about what would happen:
For then shall be great tribulation, such as was not since the beginning of the world to this time, no, nor ever shall be. – Matthew 24:21
That is murder and persecution on a scale never seen before in history.  Not millions dead – BILLIONS. With a B.
And, the first to die, will be those in the cities.
I truly hope that you'll be ready for this
(That's a link. There's not much time left.)
——————-
If you find a flaw in my reasoning, have a question, or wish to add your own viewpoint, leave a comment on the website. Your input is truly welcome.
————————————–
Click the following link and SHOCK your inbox with The Shock Letter:
————————————–