I personally don't like the idea of cycles. I also don't like the idea of death and destruction, but it's coming. And, God didn't ask me for my opinion on how the future should be laid out.
The problem is that the truth can paint an ugly picture, but since it's the truth… well, we have to embrace it – no matter how much we would wish it to be different. And, this goes for the whole idea of cycles.
War and finance exist within a cyclical paradigm, and therefore it is our duty to understand that paradigm, so that we can serve God and help those around us.
————————————–
Subscribe to The Shock Letter and receive my articles in your inbox:
————————————–
Another Cycles Expert Agrees – Collapse and War Coming
One of my many favorite verses is this one:
Where no counsel is, the people fall: but in the multitude of counsellors there is safety. – Proverbs 11:14
That's why I always try to verify what others tell me. And, you should do the same with what I tell you.
Put God First
Ask God for direction, with a pure heart, and do your homework. I could be wrong about all of this. And please… everyone… read your Bible – all of it.
How can you know what God wants you to do, if you aren't reading the words of God?
If God isn't first in your life, there is literally no hope for you. If you value your family, your career or your wealth before God, you will not survive what is coming, and then you will face a holy God in the life to come. So, repent of your sins. Turn towards God, and read the words of God.
If you've done all that, read on. If you haven't, go no further until you have.
Cycles Of War And Finance
Now, let's get back to verifying this idea that there are cycles for war and finance – and that they are predicting conflict and collapse, soon.
Yesterday, I presented two interviews with Martin Armstrong. One of those interviews was run by Greg Hunter of USAWatchdog.com. And, on Greg's site, I noticed his most recent interview, with Charles Nenner.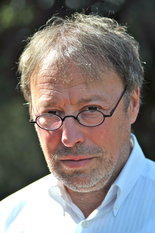 Charles Nenner
I'd heard OF Charles Nenner. I'd heard people from his investment company talk about Charles Nenner, but I'd never heard Charles Nenner himself. However, once I started watching the interview, I quickly realized why:
He is NOT telegenic.
He is exactly like all the supremely brilliant people that I know. He's terrible at personal interaction, and horrible at presenting himself. He's also Dutch.
The citizens of Holland are literally some of my most favorite people. But, they are NOT known for social skill or their amazing ability to say the right thing at the right time.
These are the same people that inspired the idea of 'going Dutch', right?
…'nuff said.
But, the people who placed their financial future in the hands of Charles Nenner have seen that future preserved and increased. Over the past 30+ years, if you followed Nenner's advice, you would have made a LOT of money.
And, the key feature behind his ability to give such incredible advice is cycles.
He knows when to invest, what to invest in, and what NOT to invest in. More importantly, he's more interested in preserving your wealth, than in making it grow. And yes, the first rule of investment is:
Don't. Lose. Money.
Never work with an investment professional, if they don't understand that rule.
Is Charles Nenner perfect?
Probably not, but when you see two men like Martin Armstrong and Charles Nenner agree on something…
…well, it's time to pay careful attention.
Here's the interview that Greg Hunter conducted with Charles Nenner:
Dollar Collapse Starts in Late 2014-Charles Nenner
YouTube Shortlink: http://youtu.be/ME9TikqlKR4
Here are a couple of quotes from Greg Hunter's summary of the interview:
We are totally out of the stock market, and we are getting ready to buy back gold. We got out of the gold market at $1,900 (per ounce) and our major cycle low is in July. The risk on the downside is not more than $100 (per ounce), but we are still holding off and we think the bull market (in gold) will resume.
And also this one:
On war, Nenner predicts, "I still do cycles of war, and I have been predicting a big war is in the making in 2013. And, when they ask me does it start with a bang, I say no, it starts slowly without us noticing. In ten years, you will look back and see it started in 2013. . . . I still think the big war will come from the Middle East."
Ezekiel's Fire
Unfortunately, I also agree with this, and that war will eventually turn into the coming of Gog and Magog and Ezekiel's Fire.
Both Martin Armstrong and Charles Nenner agree that war is coming this year, and the war cycle doesn't end until 2020. And, it appears to me that this is what the Bible is saying, too.
Where Nenner and Armstrong disagree is when the financial collapse will begin. Armstrong thinks that this will happen in late 2015. Nenner believes that it will happen this year, and is advising everyone to get completely out of the US stock market, immediately.
The bottom line is that the cycle of war and violence has already begun, and it will last for the next six years. And, the cycle of financial destruction will either begin this year, or the next.
The Next Six Years
What these two forecasters can't talk about is what the Bible says about all this. It appears to me that the Bible is saying that the next six years will be the worst moment in world history since the Great Flood. Billions will die, and the Antichrist will begin to set up his kingdom.
This will include Ezekiel's Fire, and I talk a lot about that. But, Ezekiel's Fire will only be the beginning. The wars and violence that follow will change the face of the Earth and prepare for the coming of the Antichrist.
Just understand, that as bad as this six year period will be… it still isn't the Tribulation.
What You Must Do First
All of that is hard to imagine, so it's difficult to talk about everything that you should do. But, it is clear that there are some things that you must do now.
Turn from you wicked ways, confess your sins before God and ask God to forgive you.
If you have not accepted Jesus Christ as your Lord and Savior, do so now.
Draw close to God and read your Bible.
Ask God what you should do. He WILL guide you, but only if you have truly surrendered your will to Him.
I believe that the best place for you is East Asia. But, that might not be the plan that God has for your life. My job is to warn you of what I see coming. What God does with that warning, for your life, is between you and Him.
Looking Back
As I look back on all that I've written on this subject for the past few days, I have to ask myself if I'm overreacting.
Is it possible that I've gotten all of this upside down, and that the immediate future is not as grim as I think?
I would love to entertain that possibility, but my conscience tells me that I'd be a fool to spend too much time doing so. I just cannot deny the truth of what I see, right now – even though I want to believe differently.
God help us all.
Are you ready for this?
(That's a link. Do more than just think about it.)
——————-
If you find a flaw in my reasoning, have a question, or wish to add your own viewpoint, leave a comment on the website. Your input is truly welcome.
————————————–
Click the following link and SHOCK your inbox with The Shock Letter:
————————————–