It is difficult to keep up with what's going on. Not only is the news horrifying, but it keeps getting worse and worse. We're talking bad news of truly biblical proportions. And, I can't keep up with it.
More accurately, I can't write about all of it. I don't type fast enough, and who wants to read all of that, anyway? But, it's the weekend, so maybe you'll have a bit of extra time to troll through some stuff that I haven't been able to fit in. And yes, you really need to read this.
And yes, it is all horrendous. The only place where you will find worse news is the bible, and frankly, that's the direction where all this is going.
Here's the first piece:
Is The Number Of Earthquakes Increasing? Why The 5.8 Virginia Earthquake Might Just Be A Preview Of Things To Come

Is the number of earthquakes increasing?  Are major earthquakes becoming more frequent?  In the aftermath of the magnitude-5.8 earthquake in Virginia, a whole lot of people are asking those questions.  All over the mainstream media, "experts" are coming on and assuring the public that all of this is "normal" and that the number of earthquakes is not actually increasing.  The USGS continues to insist that the frequency of major earthquakes has been "fairly constant" and that there is no reason for alarm.  But is that really the truth?  In this article, you will be presented with evidence that the number of earthquakes is definitely increasing.  Please approach the evidence with an open mind.  The truth is that this year we are on pace to have more than twice the number of major earthquakes than we did just 10 years ago.  The mainstream media is much more interested in keeping people calm than it is in telling them the truth.  Our planet is becoming increasingly unstable, and the magnitude-5.8 Virginia earthquake that we just witnessed might just be a preview of things to come.
:

If these were isolated incidents, that would be one thing.  Unfortunately, major earthquakes are popping up all over the globe with alarming frequency.  In fact, a magnitude-7.0 earthquake just struck northern Peru.

But just because we have had some notable earthquakes this year does not mean that earthquakes are increasing in frequency.

What do the hard numbers tell us?

Well, when you take a look at the numbers it quickly becomes clear that the number of earthquakes is increasing.
:

The following chart of earthquakes magnitude-5.0 or greater over the last decade comes to us from americandailyherald.com….

The following chart of earthquakes magnitude-5.0 or greater over the last decade comes to us from americandailyherald.com….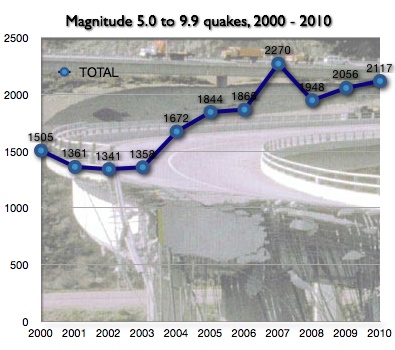 Please keep in mind that this year (2011) we are on pace to have more than 2800 earthquakes of magnitude-5.0 or greater.  Once that number is included, the chart will look even more dramatic.

The following chart shows the number of earthquakes having a magnitude of 6.0 or greater since 1973.  This chart comes from dlindquist.com, and it includes data for this year.  As you can see, the number of magnitude-6.0 earthquakes for this year is "off the charts" because we are on pace for well over 200….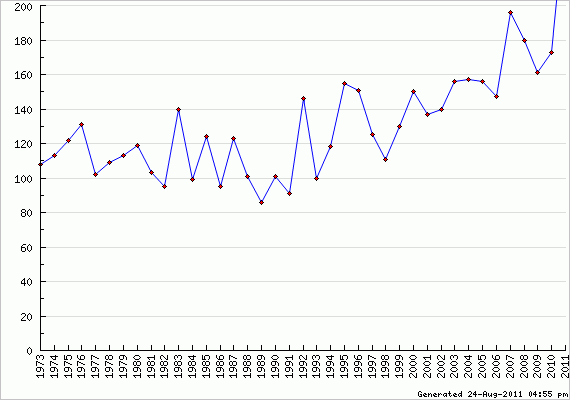 So after viewing these charts, how can anyone still deny that the number of major earthquakes is increasing?
Are you getting a bit uneasy yet?
Remember this passage where Jesus describes the end of the world? It's here:
Nation will go to war against nation, and kingdom against kingdom. There will be famines and earthquakes in many parts of the world.

Read the whole chapter here.
There's more.
Hurricane Irene, Unusual Earthquakes, Unprecedented Tornadoes, Historic Flooding And Horrific Drought: Why Is All Of This Stuff Happening To America?

What in the world is happening to America?  In more normal times it would be easy to dismiss Hurricane Irene as an isolated incident, but so far this year we have had some sort of a "major disaster" almost every single month.  In addition to Hurricane Irene, this year we have also had truly unusual earthquakes, unprecedented tornadoes, historic flooding along the Mississippi and Missouri rivers, horrific drought, massive wildfires and a continuous onslaught of nuclear radiation from Fukushima.  Almost every single area of the United States has been affected by at least one of these disasters.  So why is all of this stuff happening to America all of a sudden?  Does anyone have any theories?  Right now we are having a "once in a century" disaster every few weeks, and either we are just extremely "unlucky" or there is a reason why all of this is happening.

Let's take a look at some of the bizarre disasters that have happened so for this year….
Is America being singled out here?
Could it be that we DESERVE to be singled out?
Just look at this one…
40 Signs That America Is Rotting From The Inside Out

It would be easy to know how to defend America if enemy forces were invading our shores.  But how do you defend a nation that is rotting from the inside out?  How do you eradicate the internal decay that is eating away at the heart and soul of this nation a little bit more every single day?  Just like we saw happen with the Roman Empire, the internal rot that is eating its way to the surface threatens to bring us down as a nation.  Greed, corruption, gluttony, lust and pride have become national pastimes.  We are addicted to debt, food, entertainment and pleasure.  We have been taught to hate those that look different from us or that believe different things than we do.  Society is literally coming apart at the seams and the federal government is increasingly implementing "Big Brother" security measures in an attempt to maintain control and keep us "safe".  We have far more people in prison than any other nation on the planet and yet things just keep getting worse and worse.  So how can we fix America?  How do we rescue a nation that is rotting from the inside?
How do you fix that?
And, to top it off, this is what America has become for children:
30 Signs That America Has Become A Horrible Place For Children

What in the world has happened to the United States?  Once upon a time the U.S. was one of the best places in the world to raise a child, but today it is an absolutely horrible place for children.  We physically abuse our children at staggering rates, we pump them full of antidepressants and other pharmaceutical drugs and we send them off to public schools that more closely resemble prison camps every single day.  Meanwhile, the economic decline of the America is hitting children far harder than it is hitting the adult population.  More than one out of every five children in America is living in poverty and one out of every four children is on food stamps.  One of the ways that a society is judged is by how it treats its most vulnerable members.  As you will see below, the way that children are treated in America today is absolutely shameful.

The following are 30 signs that America has become a horrible place for children….
And then, there's Fukushima. It's a little over two thousand kilometers northeast from Taipei, where I am now, but it's not far from where my mother-in-law lives in Yokohama. The reports that I'm getting are so much worse than we thought…
It is almost unimaginable.
I'm just glad that the winds don't blow this way from there. (Although, they DO blow towards the US.)
Here's this article:
Fukushima Is Continually Blasting All Of Us With High Levels Of Cesium, Strontium And Plutonium And Will Slowly Kill Millions For Years To Come

Fukushima is now far and away the worst nuclear disaster in all of human history.  Chernobyl was a Sunday picnic compared to Fukushima and the amount of cesium-137 released at Fukushima this year so far is equivalent to 168 Hiroshima bombs.  The crisis at Fukushima is far, far worse than you have been told.  We are talking about multiple self-sustaining nuclear meltdowns that will not be fully contained for years.  In an attempt to keep people calm, authorities in Japan (and around the rest of the world as well) have lied and lied and lied.  Over the months that have passed since the disaster began, small bits of the truth have slowly started to come out.  Authorities are finally admitting that the area immediately surrounding Fukushima will be uninhabitable indefinitely, and they are finally admitting that the amount of radioactive material that has been released is far higher than initially reported.  It is going to take the Japanese years to fully contain this problem.  Meanwhile, Fukushima will continue to blast all of us with high levels of cesium, strontium and plutonium and will slowly kill millions of people around the globe for years to come.
And please, please treat this next article seriously. I've been warning people about this since before 2004. You MUST pay attention:
Life After An EMP Attack: No Power, No Food, No Transportation, No Banking And No Internet

Most Americans do not know this, but a single EMP attack could potentially wipe out most of the electronics in the United States and instantly send this nation back to the 1800s.  If a nuclear bomb was exploded high enough in the atmosphere over the middle part of the country, the electromagnetic pulse would fry electronic devices from coast to coast.  The damage would be millions of times worse than 9/11.  Just imagine a world where nobody has power, most cars will not start, the Internet has been fried, the financial system is offline indefinitely, nobody can make any phone calls and virtually all commerce across the entire country is brought to a complete stop.  A nation that does not know how to live without technology would be almost entirely stripped of it at that point.  Yes, this could really happen.  An EMP attack is America's "Achilles heel", and everyone around the world knows it.  It is only a matter of time before someone uses an EMP weapon against us, and at this point we are pretty much completely unprepared.
And, to add insult to injury… (This will make your head explode)
10 Mind Blowing Facts Which Show How Members Of Congress And Federal Employees Are Living The High Life At Our Expense

If you were asked to guess, what area of the United States would you say has the highest average income?  New York City?  Los Angeles?  Silicon Valley?  Well, would you believe that it is actually the Washington D.C. area?  Median household income in the region is $84,523, which is the highest in the nation.  One of the biggest reasons for this are the huge salaries being pulled down by federal employees in the Washington D.C. area.  According to the latest numbers, the average federal employee in the D.C. area brings in total compensation worth more than $126,000 a year.  Of course members of Congress are even doing far better than that.  Most of the members of Congress are millionaires, and somehow the vast majority of our politicians leave Washington D.C. far wealthier than when they arrived.  So if you want to live the high life, you might want to move to the Washington D.C. area.  Our "representatives" in Congress and the bureaucrats that work for the federal government are swimming in cash, and it is all at our expense.
I know that all of that was probably hard to read, but I'm glad that you did. Please pass this along to people that you care about.
Please, everyone, play it safe and have a plan. This is not a game, and there are no winners – except for those who have confirmed reservations for the life to come.