They declared war this week. War on Jerusalem. War on humanity. War on terrorism. War on Syria. War on God. War on you.
Of course, they didn't call it war. They called it other things like 'recognition' and 'a flag raising'. They called it 'support'. But, it doesn't matter what they call it.
It's still war.
And, they made their declaration right at the point when Martin Armstrong said was the turning point. And, I believe that this turning point will see all of us lose something.
My hope is that you won't be losing your life.
————————————–
Subscribe to The Shock Letter and receive my articles in your inbox:
————————————–
The Turning Point
[SEE HAGMANN AND HAGMANN UPDATE, BELOW]
At 1:19 p.m., on Wednesday, September 30th, they declared war on Jerusalem and war on God. The location was the United Nations, and this declaration of war was the raising of the flag of the PLO for the first time. That flag declares that Jerusalem doesn't belong to God – and that He is not allowed to give it to the Jewish people. It declares that God's promises are not eternal, and that He can be defeated.
How foolish.
Now, all of that might not be as readily apparent to you, as it is to me. So let me tell you why, as well as why it is important.
Why Jerusalem
Notice what Mahmoud Abbas, the leader of the Palestinian Authority, said, when the Palestinian Flag was raised:
"The day for raising this flag will come soon in Jerusalem, the capital of our Palestinian state"
Every Israeli leader, for decades, has tried to make peace with the Palestinians, but every attempt to make peace has failed over one issue:
The ownership of Jerusalem
Israel even went as far as to offer large areas of Galilee, and they still refused to make peace. They were given every incentive possible, and still, they refused. And, when Israel was forced to stop Palestinians from entering Israel, they still refused to makes peace – even though their war with Israel was destroying their livelihood. But, that didn't matter to them.
What mattered was Jerusalem.
I'm not sure that the Palestinians even know why Jerusalem is so important. I'm not completely certain, myself – other than God said that it is. And, if God says that something is important, I will always agree that it is.
Lots of people have come to me with theories about why Jerusalem is important. And some of them might be right. But ultimately, what matters is what God says.
God Says That The Jews Get It Back
And God says that the Jews will get it back. Here's a verse that is one thousand eight hundred and ninety seven years long:
And they shall fall by the edge of the sword, and shall be led away captive into all nations: and Jerusalem shall be trodden down of the Gentiles, until the times of the Gentiles be fulfilled.
That verse began around February of year 70 and ended on June 7th, 1967.
By noon on June seventh, the laws of Israel reigned supreme over every square inch of Jerusalem. The Israeli flag flew from the spire of the Dome of the Rock. If you broke Israeli law, you went before an Israeli judge and then you went to an Israeli jail. No other law ruled in Jerusalem.
Now, remember the context of that verse. Jesus spoke of the destruction of Jerusalem (v. 6-23), and followed that description with verse 24 (above), but He didn't stop there. He went on to describe the Last Days and His return (v. 25-27). He then told His disciples to watch for these signs and anticipate His return (v. 28). He then gave the parable of the fig tree, as an example of the signs of the Last Days (v. 29-31).
Not Much Time Left
Then, Jesus said something in verse 31 and 32 that should be like an earthquake in your mind:
So likewise ye, when ye see these things come to pass, know ye that the kingdom of God is nigh at hand. Verily I say unto you, This generation shall not pass away, till all be fulfilled.
Jesus was saying that the period of time between the capture of Jerusalem and His return…
…that period of time…
…would be a generation long.
Please think about that carefully. We are 48 years into the period of time spoken of by Jesus.
How much more time do we have left, before Jesus returns?
Not much.
And please do not tell me that Jerusalem is not controlled by the Jews, or that the Jews really aren't Jews. I have proved time and time again that such foolishness is not true. And, for those of you who persist with such outright stupidity, I have a few thoughts for you:
If Luke 21:24 hasn't been fulfilled, why are the gentiles fighting so hard to get it back?
Seriously, folks. Look at how hard everyone is struggling to get their hands on Jerusalem. In fact, billions of dollars have been wasted, and Jerusalem is still under the control of the Jewish people.
And, what happened on Wednesday was yet another declaration of war against Jerusalem.
The Vatican Flag Goes Up
But, notice something else:
You might not know whose flag flew next to the Palestinian flag on Wednesday, so let me provide a clue:
Yup, it's Pope Franky's flag. And, it is entirely appropriate that it would fly next to the Palestinian one, because the Vatican acknowledged Palestine as a State in June.
And yeah, those two look perfect for each other.
Pope Franky Calls Jesus A Failure
By the way, there's something else that you might not have noticed. Pope Franky went home on Sunday, and as people combed through his speeches they realized something significant:
Not once did Pope Franky mention the name of Jesus before the UN or Congress.
In fact, the only time that I remember him mentioning Jesus, was when he called our Lord and Savior a failure:
The cross shows us a different way of measuring success. Ours is to plant the seeds. God sees to the fruits of our labors. And if at times our efforts and works seem to fail and not produce fruit, we need to remember that we are followers of Jesus Christ and his life, humanly speaking, ended in failure, the failure of the cross.
 – Pope's Address To New York's St. Patrick's Cathedral
(from: http://www.nowtheendbegins.com/blog/?p=35894)
I am not surprised, but I am completely horrified.
He actually had the gall to say that Jesus was a failure?
And no, don't try to excuse this by saying that it was only 'humanly speaking'. That is complete rubbish.
Humanly speaking, Christ had complete and utter victory at the cross. Humanly speaking, we know that we have eternal life. Humanly speaking, we do not fear death because of the death, burial and resurrection of Jesus Christ.
Pope Franky Believes Lucifer Is God
[NOTE: Two sharp-eyed readers have commented that the translation of this video is in error. I will try to verify this, myself. So, take the video with a grain of salt. Please feel free to leave a comment below, if you also know that this video is in error. A big thank you, to all who are keeping this website honest. – JL]
Of course, there's a reason why Pope Franky considers Jesus Christ to be a failure:
Pope Francis Declares Lucifer As God
YouTube shortlink: https://youtu.be/dcpVrtv2t-M
I have watched that video several times, and I just cannot see this any other way. The Vatican actually considers Lucifer to be God. Here are the words spoken in the video, on April 27th, 2014:
"His flame dawning his own son
May, I say to you O' lucifer who knows no setting
Christ is your son who came back from the dead
and shed his light to the human race
and is alive and reigns for ever and ever"
I guess that you can now call the Vatican flag, the flag of Lucifer. And now, it flies at the UN.
Okay, so Pope Franky is a Luciferian. He's a Jesuit, and I proved how awful THEY are, last week. Well, we can add something new to him.
Pope Franky The Chrislamist
Here's a quote to give you the idea:
Imam Sayyid M. Syeed stated before the Pope's historic visit to the US that, "Much of Catholic America is excited about Pope Francis' first visit to the United States — and so are many American Muslims," adding that Francis' visit, "is even more important for Muslims than it is for Catholics." Are you shocked? Not yet? Well, "This pope," the Imam said, "is our pope."
During his speech at St. Patrick's Cathedral Pope Francis stated to his now loyal Muslims, "I would like to express two sentiments for my Muslim brothers and sisters: Firstly, my greetings as they celebrate the feast of sacrifice. I would have wished my greeting to be warmer. My sentiments of closeness, my sentiments of closeness in the face of tragedy. The tragedy that they suffered in Mecca. In this moment, I give assurances of my prayers. I unite myself with you all. A prayer to almighty god, all merciful."
(From: Pope Invoking Globalization)
Okay, so the Pope isn't just a worshiper of Lucifer, he's also a Luciferian Chrislamist.
Russia Attacks Syrian Rebels
Now, that wasn't the only thing happening. Russia decided this week to launch their long awaited offensive against the Syrian rebels. Lots of us were wondering when – or if – they would do that, and now the waiting is over.
You can read some of what Russia is up to in the research section, below. But, I want to take the time to point something out. You probably know that the President of Syria is Alawite, just as his father was. Furthermore, everyone in the government of Syria is Alawite. Nobody has any kind of power in Syria if they aren't Alawite, or related by marriage to the Assad family.
Now, look at this map:
The green areas on that map are where the Alawites live, and the upper half of that green area isn't even in Syria. It's in Turkey.
Now, look at where Russian airstrikes have been reported: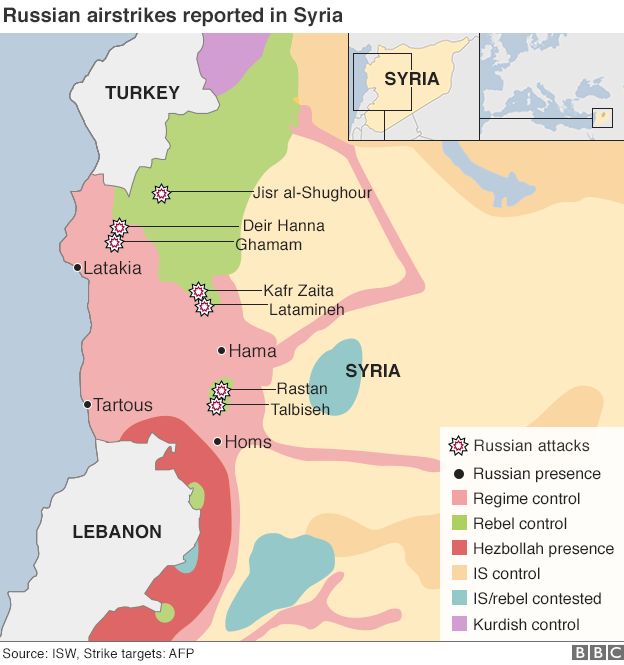 Damascus is off the bottom of the map. Russia isn't doing anything to push back the rebels near Damascus.
What does that tell you?
It may be a little early to tell, but it looks to me like Russia is only protecting the Alawite areas of Syria – areas where Bashar al-Assad will flee to, when Damascus falls to the rebels.
Does it mean that Assad will get no help in the Damascus area?
It's hard to say. Iran is sending their special forces unit – Jerusalem Force – into Syria, so we might see some Iranian action down there. We'll see.
The point is that Russia is taking a slow approach and hoping that Iran will do the heavy lifting. Russia is only protecting the Alawite areas and does NOT want to have another Afghanistan happen.
The question is what the Gulf Arabs, Turkey and the United States will do, and I think that the answer is easy:
US, Turkey and the Gulf Arabs are going to pour millions – even billions – of dollars into arms and ammunition for ISIS and the other Syrian rebels.
This will be death and destruction on a colossal scale. And I wrote about that here:
http://www.omegashock.com/2015/09/23/syria-is-no-more/
Israel will be sucked into this conflict to stabilize their northeastern border. And, you will have the US State Department to blame for the millions who died.
Isn't it wonderful to see your tax dollars at work?
Oh, and there's another fraud that I saw connected with Syria…
DEBKAfile Is A Fraud
I started writing regularly about Israel in the 90s. I believed that it was important for people to get the truth about Israel, instead of the lies being told by the mainstream media. And, since I was living in Israel, I felt that my perspective was of some value.
Then, in the early 2000s, up popped this website called Debka. They almost immediately posted material that was either completely false, or could not be verified. The owners of the site did not give out their names or any other contact information, so it took some investigative work to track them down.
When I called them, Giora Shamis picked up the phone. I asked him where he got his material, and his only response was:
"Were just that good."
Of course, he didn't actually realize why I was asking that question. What I wanted to know was why there was so much material that was completely false. But, his answer told me everything that I needed to know.
Giora Shamis and Diane Shalem were making it all up.
The only part of their writing that is correct, is the material that they steal from others. Everything else is completely made up – out of thin air. To put it another way:
They are lying to you.
I detest lies of any and all kinds. And, it makes no difference if the lying liar is an Israeli, or someone else. I absolutely detest lying liars, wherever they are.
Why I'm mentioning this is due to a DEBKAfile report that has swept through the Internet, and it is completely and utterly false. It is yet another example of the lies that Giora Shamis tells.
It is about the Chinese aircraft carrier Liaoning. DEBKAfile claimed that the Liaoning was docked at Tartus, in Syria – to assist Russia in their fight against the Syrian rebels.
Anyone who knows ANYTHING about the PLAN Liaoning, knows that China would NEVER DO THAT. And, if they did, they could not have done it secretly.
Here is what you need to know:
The Liaoning…
…is a training ship and completely unsuited for such long range patrols.
…cannot launch planes with a full weapons load because it doesn't have a catapult.
…cannot get past Taiwan, through the Malacca Straits or through the Suez Canal without EVERYONE knowing about it.
Of course Giora Shamis is betting that it would be so difficult for you to figure that out, that you'd just accept his ridiculous claims as fact.
But, don't take my word for it. Here's a retired US Navy intelligence officer to make it clear to you:
There's no Chinese aircraft carrier in Syria
And, here's one from a friend of mine, who is an accredited journalist:
The bottom line is that you can never trust a liar. DEBKAfile is a complete fraud, and only a fool would trust them.
Don't be a fool.
UPDATE: I Will Be On Hagmann And Hagmann At 7 p.m. Friday, Oct. 2nd
I will be on the Hagmann and Hagmann Report on Friday October 2nd, from 7 p.m. to 10 p.m.
Please pray that God would be glorified, and the Body of Christ edified.
Listen here:
http://www.gsradio.net/shows/hagmann_and_hagmann/
or, via YouTube:
https://www.youtube.com/user/TeamKNEIN
or, via blogtalk radio:
http://www.blogtalkradio.com/cfp-radio
And, if you don't get a chance to listen live, then catch us in the archives.
The Research For This Week
Here is the research for this week. I consult each and every one of these sites, every day, seven days a week – in the following order:
…And, when all that is not enough, I do research via Google.
The following articles are the ones that I believe to be important.
THE UNCATEGORIZED
These are the article that defy category, yet are important to read.
Isaiah 59:1-4 KJV – Behold, the LORD's hand is not – Bible Gateway
I saw this passage on Tuesday, and I think that it says everything about America that anyone needs to know:
1 Behold, the Lord's hand is not shortened, that it cannot save; neither his ear heavy, that it cannot hear:
2 But your iniquities have separated between you and your God, and your sins have hid his face from you, that he will not hear.
3 For your hands are defiled with blood, and your fingers with iniquity; your lips have spoken lies, your tongue hath muttered perverseness.
4 None calleth for justice, nor any pleadeth for truth: they trust in vanity, and speak lies; they conceive mischief, and bring forth iniquity.
– Isaiah 59:1-4
Guest Post: Climate Fanatics Run Into Public Relations Snag
I remember reading the science fiction books that were churned out in the sixties and seventies about how an ice age would descend upon us, and our civilization would freeze solid. Now, the same kinds of foolish science that web of delicious fiction, have now spun a rather less appetizing one – Anthropogenic Global Warming (AGW). It's pure fiction, but badly written. I guess that we should call it comedy.
The Anthropogenic in AGW, literally means 'man created'. And, they will use that to create a global martial law system by which they will put us in chains. The problem is that there doesn't appear to be any 'global warming'. So, they'll hafta 'Anthropogenic' something else. I'm sure that they will.
And, we'll all laugh as they wrap their chains about us.
Bishop Ron Archer Testimony The "Trick" Baby – YouTube
This came via Steve Quayle, and his comment was that this amazing testimony will bless you. And I can only say, AMEN. This truly is the power of God over suffering. It is the glory of God in the midst of darkness.
With God there is always hope, even when it seems nowhere to be found.
(God bless you, Steve, for passing that along.)
FOURTH TURNING: CRISIS OF TRUST – PART 3
This generational cycle theory is impressive, because it explains much. Furthermore, its timing falls perfectly with what I believe the Bible to say about the time in which we live.
Then, the article points out that the beginning of the Crisis between 2022 and 2025 and the final Resolution between 2026 and 2029. That seems to cover The Great Tribulation, if you ask me.
We'll see what happens.
GERMANY must segregate Christian refugees as Muslim invader violence against them escalates
How utterly sickening. Desperate Christians flee the Middle East because of the Muslim barbarians, only to find Muslim barbarians threatening their lives in exactly the same way – in Germany. And, the Germans do nothing, and they try to keep you from finding out that they are doing nothing.
It's One Indivisible System: Empire, The State, Financialization, & Crony Capitalism
Charles gets this one right. There is no way to reform the system – even if the system let you reform it. Take out one piece, and it all falls apart – into thin air. If there is to be any hope for America, it must all fall apart, completely.
Of course, it WILL fall apart completely, and a lot of people will suffer and die as it does.
Germany's Sharia Refugee Shelters
As we sit and watch in silence, the Christian refugees in Europe are being attacked by Muslim thugs. Here are quotes from the article:
Christians, Kurds and Yazidis in the shelters are being attacked by Muslims with increasing frequency and ferocity.
"I fled from the Iranian secret service because I thought that in Germany I could finally live my faith without persecution. But in the refugee shelter, I cannot admit that I am a Christian, or I would face threats… They treat me like an animal. They threaten to kill me." — An Iranian Christian in a German refugee shelter.
This is sick, and when the Police go to the politicians – in an attempt to help these poor Christians – the politicians say that this would be against their policy of multiculturalism. Here's the quote:
Police are urgently calling for migrants of different faiths to be housed in separate facilities. Some politicians counter that such segregation would go against Germany's multicultural values.
That's not just stupid. That's evil.
CYCLES
By the time that you read this, the 2015.75 date will have already passed. That is Sept 30/Oct 1 point in which the system turns downward.
Remember that it's not a magical number. It's a turning point, based upon a cycle observed by Martin Armstrong, after he analyzed data going back thousands of years. Martin Armstrong calls this turning point the Debt Big Bang.
Here are a few articles that I saw this week, that talk about Martin's Cycles.
Today's Turning Point on ECM | Armstrong Economics
This is what we've all been waiting for. It's all downhill from here.
Debt Debt & more Debt 2015.75 | Armstrong Economics
Welcome to the DEBT BIG BANG. Martin talks here about how successful his cycle model has been and the data that supports the theory. If you want to know WHY I consider his observations to be significant, read this article.
Secession in the Winds Texas & Catalonia | Armstrong Economics
This one speaks of war. I also have been observing the winds of war – both in the headlines, as well as the Bible. Worse, his view of 2017 being an important year for war… well …it dovetails with mine. We'll see how all that works out.
Palestinian Flag Raised at UN on ECM 9/30/2015 | Armstrong Economics
I am glad to see that Martin Armstrong also picked this out as a major turning point. Most people don't really understand how important this is. It is the declaration of war against Jerusalem – and God.
The ECM Turning Point — Sept. 30/Oct. 1 — Guns & War? | Armstrong Economics
Here is the last paragraph:
The other side of 2015.75 will be a lot more serious than many suspect. This concentration of confidence in government marks the peak — from here on out, this will not be a video game — this is real.
Yup. The coming months and years will be extremely real.
POPE FRANKY
The Jesuit pope is leading the charge for Lucifer and world government. As he continues his grab power, there is one thought that I ponder: The Vatican either rides The Beast, or it IS The Beast – or at least, a big part of it.
The Worship Of Pope Francis Proves People Are Ready To Receive Antichrist
This adoration really is unsettling. It is the worship of a demigod, and it is evil.
Philly's Preparations for Pope Francis are Like a Dry Run for the Apocalypse
I find this to be fascinating.
Would a major city do this for any other world leader?
This is a demonstration of the power and importance of Pope Franky. And, it is NOT a good thing.
Pope Pushes Elite Agenda – Calls For New Global Order
Pope muscles are being flexed. The question is whether he has the power to take the reins of power.
Is he the most powerful man in the world? If not… then who is?
Pope Francis Declares Lucifer As God – YouTube
I've seen this video – especially the key element of this video – more than once, and I recently saw it again on stevequayle.com.
As much as I want to avoid making the same conclusions that this video makes, the mounting evidence of the worship of Lucifer within the Vatican just cannot be ignored. There is a vile darkness at work within the heart of the Vatican, and we must be wary of its designs.
In New York, Pope Francis Embraced Chrislam And Laid A Foundation For A One World Religion
Okay, so we can now add 'Chrislamist' to the list of appellation for Pope Franky. I wonder when we will get to call him 'Prophet of Antichrist'. Of course it is WAY too early for that, but you can see that he's bucking for the job.
SYRIA
This will be THE FLASHPOINT for World War III. The Bible describes what is happening right now in Syria, in Isaiah 17. And, it will lead to what comes after in Ezekiel 38 and Ezekiel 39. And THOSE chapters will bring Ezekiel's Fire. When the smoke clears, a billion people will have died.
And Syria will have been the beginning.
German Reporter: ISIS Plans 'Nuclear Tsunami'
How utterly ironic. Turkey, the Gulf Arabs and the CIA created ISIS. And now ISIS will bathe the world in nuclear fire – or, at least will try to.
What are they using for brains in the US State Department?
Inquiring minds would like to know.
Watch The Latest Russian War Preparations In Syria: Satellite Imagery Update
As Russia continues to bring in aircraft, equipment and materials by air, the US State Department continues to engage in moral hypocrisy and dishonesty by claiming to be 'confused' by what Russia is doing in Syria. I have NEVER liked the US State Department, but I keep discovering new depths to my revulsion every time I see something coming out of their mouths.
Russian Jets Strike ISIL Positions in Syria's Aleppo
Interesting escalation. The question is how the rebels will respond. Their backers will undoubtedly respond with portable anti-aircraft weapons. But in the meantime, it looks like the Syrian government might push the rebels back – for a while.
Russian lawmakers give Putin OK to use troops in Syria
An interesting escalation. This could mean that Russia is thinking of a far wider involvement.
Russia Starts Syrian Air Strikes in Support of Putin Ally Assad – Bloomberg Business
I think that the last two sentences are interesting:
"We see some very sophisticated air-to-air aircraft going into these airfields," Breedlove said. "I have not seen" Islamic State "flying any airplanes that require sophisticated air-to-air capabilities." Of course, General Breedlove is a political appointee with all the strategic and tactical sense of a chihuahua, but he at least can recognize an air superiority fighter, when he sees one.
Caught On Tape: Dramatic Footage Of Russia's First Airstrikes In Syria
Um… not exactly footage of Russian jets, but at least the aftermath. More important are the maps at the end of the article. You'll notice that Russia isn't trying to save Damascus – just the Alawite areas where Bashar will flee to, when Damascus falls.
HomsMap.png (PNG Image, 763 × 634 pixels)
Basically, this map shows that Damascus is doomed. All the white areas are completely desert. The Russians are ONLY interested in helping Syria in the northwest. It looks like they might be giving up Damascus as a lost cause.
This Is How Russia Handles Terrorists: Moscow Releases Video Of Syria Strikes
Okay, I'm not a fan of Bashar al-Assad. I'm not a fan of those countries supporting him – like Iran. I'm not a fan of Russia.
But, the Gulf Arabs governments are so vile and evil – and their progeny, ISIS – that you start to like anyone who hates them.
And, I am a BIG FAN of massive explosions destroying ISIS infrastructure. I'm also a fan of exploding Jabhats – and anyone else supported by the Gulf Arabs.
I'm not a fan of Gulf Arabs. Not even a little.
Propaganda War Begins: Russia's Syria Strikes Targeted US-Backed "Moderate" Rebels, West Says
Yep, and here's the propaganda overdrive by the US in support of the Jabhat al-Nusra – aka, Al-Qaeda. Even the Wall Street Journal spoke up for poor Al-Qaeda.
US Jabhat foreign policy is completely vile. Maybe we should point out to the Russians that there's ISIS infrastructure that needs their attention in Washington, DC.

It would be nice if they took care of that for us.
Vladimir Putin signs decree drafting 150,000 conscripts into the Russian military
I got this from Steve Quayle, and the article starts out in a very ominous way:
Vladimir Putin has signed a decree drafting nearly 150,000 conscripts into the Russian military as Moscow's warplanes unleashed a new wave of airstrikes in Syria.
The timing of the move – on the very day Russia entered the conflict yesterday – will likely raise suspicions the Russian President is planning a wider offensive to prop up his Syrian counterpart.
It also comes after one of Putin's staunchest allies called on him to send in Muslim ground troops to defeat the Islamic State and other Islamist extremist groups in the war-torn country.
Russia has tried to downplay the significance of this, but still… if it's just coincidence, it's a pretty OMINOUS coincidence
Mid-East Coup: As Russia Pounds Militant Targets, Iran Readies Ground Invasions While Saudis Panic
Excellent article. The only quibble that I have with it, is the writer's point about Jerusalem.
Israel only cares about having peaceful and secure borders. Any time that Iran gets involved with countries bordering Israel, those borders stop being peaceful and secure. This is the only reason why Israel is involved in any way in this conflict. They are trying to keep weapons out of the hands of Hezbollah and Hamas.
To put it another way, Jerusalem doesn't care who rules in Damascus, as long as no one threatens Israel's peace and security.
Unfortunately, Iran has vowed to do more than just threaten Israel's peace and security, which means that Israel will be dragged deeper into this conflict in Syria.
The tragedy is that all of this was completely unnecessary. If Bashar's father – Hafez al-Assad – had rejected Iran's support from the beginning, Syria could have found a way out of all this. But, Hafez chose badly, so the Syrians will suffer. Of course, Isaiah 17 prophesied that all of this would happen, but it is still painful to watch.
These Dramatic Before And After Images Of Syria Demonstrate "Success" Of US Foreign Policy
The pictures in this article are a potent demonstration of what America, Turkey and the Gulf Arabs have done to Syria. And, all of it for money. Nothing more.
GOG AND MAGOG
Gog and Magog MUST come before the Antichrist arrives. And, we see confirmation of this in the geopolitical landscape. Iran and Russia are moving closer and closer together, and events in the Middle East are creating alliances across the Sunni/Shia divide. The conflict in Syria is just the beginning.
The end will be with fire. Ezekiel's Fire:
http://www.omegashock.com/ef/ezekielsfire.pdf
Russian Arms: to Syria Today, Tomorrow to a "Demilitarized Palestine" – Op-Eds – Arutz Sheva
If you want to see a key element for the coming of Gog and Magog, look no further than this one. Russia, Iran and the rest of the Gog/Magog alliance will come down to 'liberate' Palestine from the hands of the evil Israelis.
The world will allow it.
When that happens, expect God to respond. Read more about that response, here:
or, the PDF version:
http://www.omegashock.com/ef/ezekielsfire.pdf
Saudi Prince Calls For Royal Coup
This could get very interesting, very quickly. Saudi Arabia and the rest of the Gulf Arabs have been a thorn in everybody's side for a very long time. And, as revenues fall, someone is going to take care of this 'thorn'. In fact, several 'someones'.
And, to give you an idea of how fast those revenues are about to fall, here's this:
They were right. From 2005 to 2015, Saudi net exports have experienced an annual decline rate of 1.4 percent, within the range predicted by Brown and Foucher. A report by Citigroup recently predicted that net exports would plummet to zero in the next 15 years.
And no, it won't take 15 years for the effects to bite. Just a few years will be all that it will take, and then all that money that was fomenting war in the Levant and Central Asia will just wither away.
This will have an impact upon the coming of Gog and Magog, and it will be interesting to see how it plays out.
Saudi Arabia Seizes Iranian Ship "Laden With Missile Launchers, Anti-Tank Weapons"
The last paragraph in this article points us directly at Gog and Magog:
In short, now that Moscow has let the genie out of the bottle, it may not be long before both sides ditch the charade altogether, leading directly to a scenario that sees three proxy wars metamorphose into one outright armed conflict between the West and the Russia-Iran "nexus."
That 'outright armed conflict' will be Gog and Magog. The Bible said that it was going to happen, so there's no avoiding it.
MATTHEW 24:7
The rise of ethnos against ethnos – that we are seeing right now – is the fulfillment of the words of Jesus in verse seven of Matthew 24. We are already seeing the beginning of the destruction of Europe at the hands of opportunistic migrants from the Islamic world. And, about 75% of them are Muslim men of military age – with many of them already military trained.
Muslim invaders "threaten" to go back home unless they can stay in the biggest EU welfare state – Germany
If you want a demonstration that these are ECONOMIC MIGRANTS – and NOT refugees – look no further than this. Of course, Germany and the rest know this.
More Germans evicted from their homes for Infiltrators – YouTube
Germans are being thrown out of homes that they've been living in for YEARS, on short notice – because of the Muslim migrants that are flowing into Germany.
What utter insanity.
GERMANY'S FASCIST GOVERNMENT is evicting poor and elderly Germans from their housing in order to accommodate illegal alien Muslim invaders
Here is a supporting article for the above video from early September. Astonishing.
This will end in violence, and it's utterly, utterly insane.
German nurse shocked after being forced out of flat to make way for refugees — RT News
We now have even more information on the woman in the video above. She's a nurse, and her town is evicting her to make way for these Muslim opportunists who are flooding into Germany.
It really is disgusting.
Poll: Most U.S. Muslims would trade Constitution for Shariah
QUOTE FROM ARTICLE:
A poll commissioned in May 2015 by the Center for Security Policy showed that 51 percent of American Muslims preferred that they should have their own Shariah courts outside of the legal system ruled by the U.S. Constitution. And nearly a quarter believed the use of violent jihad was justified in establishing Shariah.
Refugee Crisis in Syria Raises Fears in South Carolina
QUOTE FROM ARTICLE:
"The U.N. calls it 'refugee resettlement' — the Muslims call it hijra, migration," said another speaker, Jim McMillan, a local businessman. "They don't plan to assimilate, they don't plan to take on our culture. They plan to change the way of American life."
Germany in a state of SIEGE after Angela Merkel opened floodgates to migrants | Daily Mail Online
Now, with gangs of men roaming the streets and young German women being told to cover up, the mood's changing.
Thousands of economic migrants are posing as refugees to reach Europe. Women said rape and child abuse were rife in Giessen's refugee camp, and the rape is being coverd up by the police.
NETHERLANDS: Muslim invaders whine about the terrible conditions they are suffering in a holding camp
This really is appalling. These freeloading migrants are complaining about slow internet and not enough money for cigarettes. And, they're bored.
Oh, the inhumanity! The suffering!
And, the foolish Europeans invited them in. I don't know whether to laugh, or cry.
Spain: Pro-secession parties in Catalonia win landmark vote
This is also a part of the Matthew 24:7 prophecy. The Catalan people have risen up against the Castilian Spanish, and demanded their sovereignty. The question is:
Who's next?
Here's another view of the event:
http://news.yahoo.com/invincible-invincible-catalan-separatists-celebrate-poll-win-022652717.html
GERMANS FED UP! PROTESTS FILL STREETS, ARSON ATTACKS TORCH MUSLIM 'REFUGEE' HOUSING *VIDEO* #o4a #news #Germany #Muslim
These protests will turn to riots, and the arson attacks will turn to outright violence. Frau Merkel's ill advised opening of the doors to Germany will NOT end well.
PAT CONDELL on the illegal Muslim invasion of Europe
Once upon a time, Pat Condell used to be anti-Israel. Then, he saw something that changed his mind. That was years ago, and it's good that he is now pointing out the foolishness of what is happening in Europe, with wave after wave of young, male Muslim invaders.
Good for you, Pat.
And, good for those of you who choose to listen to what he said. It's a great summary of European insanity.
Muslim Rape 'Misunderstandings' Come to Europe
This is straight up evil. But, since it is a Muslim evil that has invaded Europe, it is an evil that is fulfilling Matthew 24:7. And, just to give you an idea of this 'fulfillment' in action, here's this quote:
The Pakistani rapists who went after eighteen women and girls, claimed that they could rape a girl because "she was not related to us" and "she was not wearing any headscarf". Their Grand Mufti agreed, saying, "It's 90 per cent the women's responsibility."
Welcome to a whole new world of rape, violence and murder – coming to a town near you.
Thousands of Europeans Take to the Streets to Crusade Against Muslim Invaders
It starts with tens of thousands, but it will not stop there. We are going to see a groundswell of Europeans lashing out at Islam invading their countries. And, the activities of these barbarians is only inflaming the revulsion of these Europeans.
Twitter shuts down EndOfTimes411
You'll notice that you can't find EndOfTimes411 on Twitter.
This is interesting. Twitter has shut down the page of EndOfTimes411 – the person who was exposing Muslim fighters imbedded among the Muslim migrants flooding into Europe.
How utterly typical.
MORE THAN 20,000 angry Germans come out to protest Muslim invasion of their country
The Germans have begun to figure out what is happening to their country, and they are trying to do something about it. But, it looks like it's too little, too late.
ISLAM
Islam is NOT a relgion. It is fascism wrapped by a Satanic death cult.
And, we are allowing this evil and vile cult into our midst.
Have we gone insane?
MSM Lies about Muslim Lies (Taqiyya) | Raymond Ibrahim
How utterly fascinating. The Muslims are DEMONSTRATING Taqiyya, by lying about Taqiyya. How beautifully ironic.
Under Islam, you are encouraged to lie under MANY different conditions:
Whenever beneficial to Islam.
To save their lives.
To reconcile a husband or wife.
To persuade a woman into a bedroom.
To facilitate your journey.
To kill a Jew who offended Mohammed.
The Muslim is earning his way to heaven by lying to a non-Muslim.
You can find the above and more, here:
http://www.muslimfact.com/bm/terror-in-the-name-of-islam/islam-permits-lying-to-deceive-unbelievers-and-bri.shtml
CARSON WAS RIGHT! Most practicing Muslims DO believe sharia law should supersede the U.S. Constitution
I wouldn't mind if a Buddhist believed that the Sutras were above the Constitution, or that a Hindu might think that the Vedas were above the Constitution – because their religions do not appear to be against the Constitution.
But, Islam IS against the Constitution.
What WE call freedom, THEY call forbidden.
MUSLIMS PRAY BROOKLYN NEW YORK USA SEPT 2015 – YouTube
When I told my wife – who had been a New Yorker for 25 years – that this video was an open air worship service by Muslims, in Brooklyn, she was upset.
Islam is Satanism, and it's coming to a neighborhood near you.
SWEDEN: Muslims think it's normal to call Swedish women "whores"
Fathers, this is what Muslim men are calling your daughters – whores. And no, it's not just the immigrants. IT'S EVERY MUSLIM MAN.
But, it's Islam, so it's okay.
BELGIUM: Muslim residents in Brussels caught on camera stealing food meant for Syrian Muslim 'refugees'
And, Muslims are even stealing from Muslim refugees. This is Islam. And, it's why there will never be peace in the Middle East – even if Israel were destroyed.
OREGON gunman who killed 10 Christians alleged MySpace page is filled with photos of Muslim jihadists and calls to "kill the Jews"
So, the Oregon shooter was a Jihadi wannabe. Yet another peaceful action by the 'religion of peace'. Typical.
ISRAEL
If you miss the importance of Israel, you will miss what God is doing. And, if you miss what God is doing… well …this might not end well for you.
Seriously folks. Pay attention.
624.jpg (JPEG Image, 600 × 390 pixels)
This quote had me laughing. It's an actual quote from a real UN report from Human Rights Commissioner, Navi Pillay. Here's the quote:
When Palestinian men beat their wives, it's Israel's fault.
– Navi Pillay.
Riiight. Good one, UN. Real good.
Palestinians: We Are the New Nazis
The following is from a Palestinian and tells you everything that you need to know about the Palestinians:
These are people behaving in a way that does not deserve being rewarded with anything, let alone a state. They far more resemble all tyrannical thugs throughout history who spend their lives telling other people how to live, and using violence, or threats of violence, to coerce anyone who does not agree. Sadly, we already have too much of that kind of muscling in our Arab and Muslim world, as Egypt's forward-looking President, Abdel Fattah el-Sisi, as well as many others, regularly point out.
We have now reached the same stage as Germany's Nazis — the same thing, ironically, we falsely accuse the Jews of being — where the appearance of a Jew on a Palestinian television show is considered as an act of "treason" and a "crime." In reality, it is we who are the New Nazis.
And yes, all of that was written by a Palestinian.
New clashes at Jerusalem holy site
These riots will increase on the Temple Mount. The question is how far will they escalate.
Tablet: Palestinian Authority Should Help Refugees By Returning Embezzled Aid Money
The biggest reason why I despise and revile the Palestinian Authority is their abuse and corruption – against Palestinians. No one has done more evil the the Palestinians, than the Palestinian Authority. I have watched it myself. And many Palestinians have begged Israel to take back control of the areas under Palestinian Authority rule.
And, when there was talk of transferring Israeli Arab land to Palestinian control, under a 'peace deal', the Israeli Arabs promptly moved out of those areas being 'considered' for transfer. Israeli Arabs PREFER ISRAEL over ANY OTHER ARAB COUNTRY.
But, no one wants to talk about THAT.
'Israel concerned with build-up of Iranian forces in Syria near Golan border'
This buildup of Iranians on the border with Israel, is a serious problem. Israel CANNOT allow it. Anytime Iranians are detected near the border with Syria, they MUST be attacked.
Israel has been doing that on a regular basis, but Iran may also use that strategy against Israel – to lure them into Syria. To Iran, attacking Israel is more important than defending Syria.
Remember that Iran's special forces unit is call Jerusalem Force.
Israel Prepares Possible Invasion of Syria
I've seen a lot of fools claim that they know Israel's intentions. They go on to claim that Israel actually WANTS to invade Syria, and is merely looking for the opportunity.
Fools. Israel does NOT have a militaristic focus. Israel is a country run by Jewish grandmothers, and they are NOT interested in seeing any of their children come home in body bags. And, Israeli generals KNOW that this will happen.
Furthermore, any territory in Syria gained by Israel would be ungovernable by Israel – which is yet another reason why they do NOT want territory in Syria.
Yet, this doesn't stop the anti-semites from labeling such news as a 'pretext'.
Fools.
Israel Concerned by Iranian Ground Forces in Syria
As I said earlier – and will keep saying – Iran's big focus is to destroy Israel. If you can't see that, you're a fool, and I do not have patience for fools.
But, the fools who claim to know what they are talking about, persistantly claim that Israel has no legitimate concern about Iranian forces in Syria.
Disgusting pieces of trash like that need to be horsewhipped and demoted to garbage collector.
Palestinian flag flies over U.N. as Hurricane brews in Atlantic
A new war was declared against Jerusalem, on Wednesday, September 30th, 2015. This is NOT about the West Bank or Gaza. This is NOT about the poor, opressed Arabs. This is about Jerusalem and the resolute unwillingness of the Arabs to make peace – unless they are given Jerusalem.
Palestinian Flag Flies for First Time at UN
QUOTE FROM ARTICLE:
Palestinian President Mahmoud Abbas raised the Palestinian flag at the United Nations for the first time on Wednesday with a promise that it will be raised soon in Jerusalem, "the capital of our Palestinian state." More than 300 ministers, diplomats, and well-wishers who crowded into the rose garden at UN headquarters where a temporary flagpole had been erected for the ceremony applauded his words.
LIKE I SAID. THIS IS A WAR AGAINST JERUSALEM.
BY THE WORLD.
Attacks on Jews rise to five-year high in Germany – more than any country in Europe
This is only going to increase. The Jews have always been 'the canary in the coal mine'.
When 'the canary' starts having problems, it's time to get out.
Benjamin Netanyahu glares at U.N representatives for 45 seconds after condemning them for their silence on the escalating Iranian threat to Israel
When was the last time that a larger country with the capacity to do so, promised to murder every American? The answer is never. And, we wouldn't appreciate it, if 'friends' were making deals with someone like that. So, why are we making deals with people who promise to murder Israel?
Netanyahu at UN: Iran's Plan to Destroy Israel Will Fail
Yes, Iran's plan to destroy Israel will fail. But, it will almost succeed. And, those who support Iran's plan to destroy Israel – and there are many who do – will be destroyed along with those who fought with Gog and Magog.
Do not join with the enemies of Israel. God's wrath is against all who hate the Jewish people.
A UN Resolution Setting The Parameters For A Palestinian State Is Still In Play
If a UN resolution proclaiming Palestine a state, then you know who was the one who made it possible: The USA. I truly pray that this never happens, because I would hate to see even more of God's wrath descend upon America.
HUMOR
Reader's Digest has segments in their magazine called 'Laughter Is The Best Medicine'.
One day, it may be the ONLY medicine that we have.
Texas Gun Store Posts Sign with Hilarious Warning that Gun Owners are Making Go Viral
I like this one. It provides the only three reasons for why you would not have your gun in a holster while in their store. You will need to click the link to find out what those reasons are.
QUOTES
I ran into these quotes this week, and they reveal truths that the elites would prefer that you didn't know.
KWN-Celente-III-9252015.jpg (JPEG Image, 601 × 449 pixels)
If I'd written all the truth I knew for the past ten years, about 600 people – including me – would be rotting in prison cells from Rio to Seattle today.
Absolute truth is a very rare and dangerouls commodity in the context of professional journalism.
– Hunter S. Thompson
KWN-Celente-9252015.jpg (JPEG Image, 890 × 421 pixels)
There is no such thing, at this date of the world's history, in America, as an independent press. You know it and I know it.
There is not one of you who dares to write your honest opinions, and if you did, you know beforehand that it would never appear in print. I am paid weekly for keeping my honest opinion out of the paper I am connected with. Others of you are paid similar salaries for similar things, and any of you who would be so foolish as to write honest opinions would be out on the streets looking for another job. If I allowed my honest opinions to appear in one issue of my paper, before twenty-four hours my occupation would be gone.
The business of the journalists is to destroy the truth, to lie outright, to pervert, to vilify, to fawn at the feet of mammon, and to sell his country and his race for his daily bread. You know it and I know it, and what folly is this toasting an independent press?
We are the tools and vassals of rich men behind the scenes. We are the jumping jacks, they pull the strings and we dance. Our talents, our possibilities and our lives are all the property of other men. We are intellectual prostitutes.
(Source: Labor's Untold Story, by Richard O. Boyer and Herbert M. Morais, published by United Electrical, Radio & Machine Workers of America, NY, 1955/1979. via John Swinton on the independence of the press.)
Also quoted in my article, here:
http://www.omegashock.com/2013/07/03/intellectual-prostitutes/
EVIL
At the heart of all that is happening is the deepest, darkest evils. We try to insulate ourselves from these evils, but that only gives them room to thrive. In fact, we consume the evils of our society and thereby give fuel to the fires.
Worse, we have chosen evil leaders for an evil government to promote evil around the world. And now, the evil turns its fires upon us. You can close your eyes to the evil among us and the evil that we do. You can choose to not see the evil. But, I can tell you, that…
…the evil sees YOU.
Putin Sends A Message To The American People – "Which Party Is The Provocateur Here?"
It makes me sick to think that our country is so evil – that we are a force for all that is awful.
We have deliberately destroyed the lives of countless Ukrainians, Russians, Libyans, Iraqis, Afghanis and now Syrians. By our actions, we have caused murder, rape and torture. We have destroyed the lives of millions and laid waste to whole countries.
For money.
And yes, I know that we were lied to by those who made these decisions. But, we lied to ourselves first.
Well, all that I can say, is that if Russia does the smart thing and destroys us… well …it's only what we deserve. God help us all.
Kentucky Politician Files Lawsuit Claiming A First Amendment Right To Accept Bribes
I don't know whether to laugh, or cry. America has gotten so bad, that politicians feel free to discuss their corruption in public. Worse, the three politicians will probably get reelected. To quote the last line of the article:
Two words: Banana Republic.
Why Would Police Arrest a 19-Year-Old Girl for Reporting Her Rape?
This is sickening, and the police officers responsible HAVE BEEN PROMOTED!
Dating Apps Like Tinder And Grindr Come Under Fire On New Billboard Suggesting They Promote STDs « CBS Los Angeles
Here are a couple quotes about TINDER and GRINDR:
they make casual sex as easy as ordering a pizza
"Tinder's great for meeting people that just want to have sex," said a man name Nick.
The billboards are also accusing the sites of promoting a hook up culture. "I saw it and I was like yep, that's what it is now," says Rachel Cross who said she was an early Tinder user.
Okay, so what did God do to those who acted in this way?
That's right. He destroyed them. And, since you know that, you now know what is about to happen.
GEORGIA: Parental outrage over public school's 'Islamic indoctrination' of students in the classroom
Those of you with kids… well …you'll love to know that your kids' school is churning out little Muslims – according to Islam. I hope that you like the thought of that, because that is EXACTLY what is happening.
Remember, all that you need to do to become a Muslim is to recite the Shahada – to proclaim that there is no god but Allah, and Mohammad is his prophet.
Recite that, and POOF, you are a Muslim. And under Islam, once a Muslim, ALWAYS a Muslim.
You want that for your kids, right?
Politician Says Homeless People Should Be Put Down By Lethal Injection – Yahoo News
Here's a quote:
She alleged that killing beggars was already going on unofficially, and added that the local psychiatric hospital, El Batan, often just deposited patients deemed "un-aggressive" in the middle of the motorways at night, where they are killed by cars but also cause accidents that put others at risk.
Okay, so it's true that this is Mexico, but it is ALSO the mindset of many politicians in America. And, some have indicated that this is happening in the US.
The Secret Nazi Institute of the Occult, Super Soldiers, and Zombies
Please remember that the CIA was created around Nazi General Reinhard Gehlen and his group. This is why the CIA has always been – at its heart – a deeply Nazi organization.
So, with that in mind – and the information in this article:
Is it any wonder that MK-ULTRA was set up by the CIA?
MARTIAL LAW
America already lives under martial law. Your rights have been discarded, and the government rules without constraint from the US Constitution. And, the voice of the governed has no impact upon decisions in Washington D.C.
This is a defacto Martial Law. However, something more obvious and stronger is coming. And, as society crumbles and turns more and more to lawlessness, Martial Law will become stronger and more obvious. In fact, things may get so bad that some will ask for it. The articles here, describe that process – and the current condition of America's state of martial law.
The Imperial Banana Republic: 75% Of Americans See Widespread Government Corruption
The perception of corruption is a big step along the path toward out-and-out martial law. The US government has lost the consent of the governed. Therefore, the government will rule by fear and violence.
I hope that you realize what that means.
Half Of Americans Think "Government Is An Immediate Threat To Liberty"
Even more fuel for the martial law bonfire. Eventually, there will be outright insurrection – which the government will meet with violence.
Regulated out of Existence: Off-Gridders Forced back on the Grid, Camping on own land Illegal
This kind of stuff makes you so mad, you start thinking thoughts of revolution. And, that is EXACTLY where this is going. You cannot and will not be free in America, and that is an amazing thought for a child of the 60s, like myself.
This Happened In September: The UN Launched 'The Global Goals' – A Blueprint For A United World
If you want to know where/why/how this martial law will be implemented, look no further than this – the Global Goals.
Yes. They're beating you up… Throwing you in jail… Taking everything that you have… Killing you and your children…
…Because they care.
State Makes It Legal To Shoot Cops In Self-Defense If They Violate Your Rights
Finally, some states – including my state of Indiana – are exercising a common sense pushback against the thuggish martial law being practiced by police departments. It won't stop what's happening, but it will slow it down.
ELECTRONIC MONEY
This is the electronic gulag. This is the Auschwitz, Treblinka and Birkenau design for the modern world. These are the shackles by which you will be controlled – and already are controlled. Once they lock your ability to buy and sell – into a bank – you will be at their mercy. When they take away your cash, they take away what little freedom that you have left.
And, like all good Martial Law sock puppets, they will tell you that they do this for your own good.
Goodbye $100 Bill? Ex-Central Banker Demands All High-Denomination Banknotes Should Be Abolished
Ah yes, the steady slow drip of the elimination of cash. And, once they eliminate cash, they will then be able to set NEGATIVE INTEREST rates – where they charge YOU for keeping your money in the bank. And, of course, you have no choice, because there is no cash.
I just love dictators and repressive martial law. Don't you?
FINANCIAL COLLAPSE
Financial collapse is coming.
Um… No. That's wrong.
Financial collapse is ALREADY HERE. Please get as much money as you can out of financial institutions. Eventually, it's going to disappear.
The Stock Markets Of The 10 Largest Global Economies Are All Crashing
That's bad. Very bad. Just remember that the bond markets are in WORSE shape, and they are much, Much, MUCH bigger than the stock markets.
Why US Rates Can Never Rise: In 1 Awkward Chart
Okay, now THIS is bad. The amount of debt held by the government of the United States is so bad… only one other government in the world is worse – Japan. This is horrific and will mean that the US government will default on its debt. There is just NO OTHER WAY OUT.
The Final Flush Is At Hand! :: Jim Sinclair's Mineset
An ominous article by Bill Holter, in which he said this:
…do not let anything that may happen from here surprise you. The conditions are ripe for global currency crises and a shutdown of credit. The conditions are also ripe for hot war to explode in multiple venues. A meltdown or shutdown of markets will serve as a FINAL FLUSH of what remains left of the U.S. middle class.
JUNK BOND MARKET IMMINENT COLLAPSE threatens (unwelcome) BIG rate rises.
We breathed a sigh of relief when the FOMC of the Federal Reserve did not hike interest rates. Unfortunately, reality is having a different say in all this.
If people start fleeing junk-rated bonds in droves – and they are – those issuing junk bonds are going to need to raise their rates. This rise in rates will reverberate up the bond spectrum. And, rising rates will push the economy over the brink.
…and there goes the neighborhood.
It's 2006 All Over Again – YouTube
Peter Schiff is so right, that the mainstream media can't handle it. Collapse is coming. And, it's going to destroy us.
CHINA
China hasn't played a big role in this week's news, but it is still extremely important. At the very least, it is a bellwether for the global economy.
The Start Of China's Unrest? Southern China City Rocked By "Massive" Bomb Explosions, At Least 6 Dead
I was talking to my wife about this, and she pointed out that the Uyghurs generally attack in this area, even though it's quite far from Northwest China, where the Uyghurs live. China is trying to downplay this.
China's Leadership: Brilliant Or Clueless?
In the question of whether China's leadership is either brilliant or clueless – I say neither. They are merely ruthless men of average ability that will stop at nothing to retain control. We will soon find out if their ruthlessness is enough to keep the lid on public discontent.
The recent explosions would seem to indicate otherwise.
Two Very Disturbing Forecasts By A Former Chinese Central Banker
Okay, okay… this will be bad. Really bad. In fact, so bad, here's a quote about how bad:
it expects a China-driven global meltdown, one which "would more than likely send the world economy into a tailspin. Its impact could be the worst the world has ever seen."
Yup. THAT bad.
GOLD AND SILVER
I am not a gold bug. In fact, for most of my short career as an investment manager, I was anti-gold. I thought that it was a stupid investment. Now, I believe differently.
I now believe in owning gold and silver because I don't really know of anything else that you should own under current conditions. I do NOT trust the financial system, and I do NOT trust the political system. This means that I am stuck with having to own some unit of value that is not dependent on either the financial system or the political system.
There are other things that you could own, but they are less portable. And, not everyone will consider them valuable.
But, if you know of something that everyone will value equally, is portable – and is not dependent upon either the financial or political system – then go for that. Don't let my lack of imagination keep you from what you know to be a good idea. But, for the rest of you, my recommendation is to buy as much silver as you can carry, and then as much gold as you can afford – but, only AFTER you have invested in God, a safe location, water and then food – in that order.
BEWARE: What If This Retail Silver Investment Shortage Doesn't End?
Very, very interesting. The supply of silver that is available for you to buy is getting smaller and smaller. Once the tide turns in how people view silver – and gold – the price of silver will explode.
This is why I ALWAYS say:
Buy as much silver as you can carry, and as much gold as you can afford.
PREPARATION AND RELOCATION
You must prepare for the worst period of time in world history. What we have now is the calm before the storm. This is your chance to move, if your location is not safe. This is your chance to obtain food and access to water. When the collapse begins, it will be too late. In a situation like this…
…it is better to be five years early, than five minutes late.
Civilization Is Only Nine Meals Away From Anarchy – YouTube
This is a truly horrifying video. But unfortunately, it is reality. Everything talked about in this video is historical fact. Nothing is made up.
Are you going to be ready to survive under the conditions described in this video?
If not, then get ready.
Earth will only have a 12-hour warning before massive solar storm wipes out grid – are you prepared?
I completely agree that this is a complete certainty. Worse, the Bible describes the coming of a greater solar flare than the Carrington Event. I call it Ezekiel's Fire:
Although, you can call it anything that you want – as long as you prepare.
James Wesley Rawles -We're Still Headed For Catacalysm – YouTube
Here's a quote from the video:
Panic now and avoid the rush.
All that I can say is 'very, VERY well said'.
I truly hope that you'll be ready for this
(That's a link. Click it for a discussion on preparation.)
A prudent man foreseeth the evil, and hideth himself: but the simple pass on, and are punished. – Proverbs 22:3
——————-
If you find a flaw in my reasoning, have a question, or wish to add your own viewpoint, leave a comment on the website. Your input is truly welcome.
————————————–
Click the following link and SHOCK your inbox with The Shock Letter:
————————————–